A Royal Flush: The Unbeatable Poker Hand!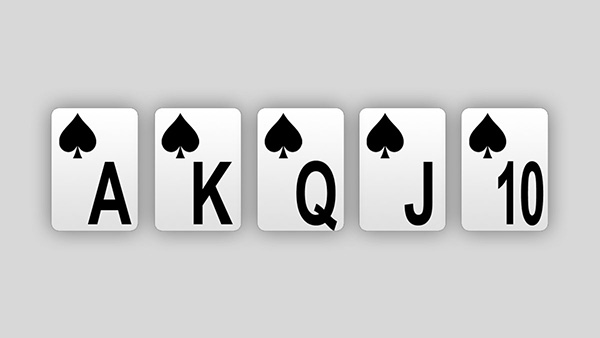 As far as poker hands go, a Royal Flush is the crème de la crème. It is the most coveted of all the poker hand combinations, and the rarest. Players cannot form a stronger hand in poker than a Royal Flush. This poker hand is made up of a 10-Jack-Queen-King-Ace of the same suit. This Ace-high straight is unbeatable.
Ranking a Royal Flush Hand
Consider that any 52-card deck features just 4 Royal Flush combinations. They each have the same ranking – regardless of suit. The following 4 Royal Flush combinations are possible:
A♥K♥Q♥J♥10♥
A♦K♦Q♦J♦10♦
A♣K♣Q♣J♣10♣
A♠K♠Q♠J♠10♠
As you are aware, a Straight Flush includes 5 sequential cards of the same suit, but a Royal Flush is an Ace-high Straight Flush.
How to Rank Straight Hands Versus Royal Flush Hands?
When you're holding the nuts in poker, you've got a great hand. Nothing can beat a Royal Flush. If you're playing Texas Hold'em, Omaha Hi-Lo, or Omaha Hi, it's impossible for 2 players to form a Royal Flush simultaneously. That's why this hand always claims the lion's share of the pot.
In one of our poker articles, we mentioned that a Straight Flush is the best possible hand in poker games. You may be wondering why we said that. Well, a Royal Flush is actually the strongest possible Straight Flush you can make. When a Royal Flush goes head-to-head against a Straight Flush, the Ace-high Straight always wins the contest.
Probabilities of Hitting a Royal Flush in Poker
Texas Hold'em Probabilities
| | | |
| --- | --- | --- |
| In the Pre-Flop Stage | probability of 0.000154% | With 5 Randomly Drawn Cards from a 52-Card Deck |
| By the Flop | probability of 0.005% | If You're Holding Two Suited Cards between 10-Ace |
| By the Turn Card | probability of 4.256% | With an open-ended Royal Flush Draw on the Flop |
| By the River Card | probability of 4.348% | With an Open-Ended Royal Flush Draw on the Turn Card |
Pot Limit Omaha (PLO) Probabilities
| | | |
| --- | --- | --- |
| In the Pre-Flop Stage | probability of 0.000154% | With 5 Randomly Drawn Cards from a 52-Card Deck |
| By the Flop | probability of 0.0058% | When You Have TJxx Double Suited |
| By the Turn Card | probability of 4.444% | If You Have an Open-Ended Royal Flush Draw on the Flop |
| By the River Card | probability of 4.545% | If You Have an Open-Ended Royal Flush Draw by the Turn card |
prev hand