Poker Night in America - Episode 3 Recap - the Lion's Den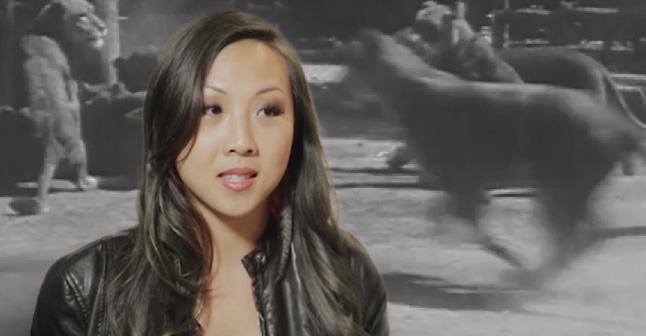 In this episode we get to know the beautiful Kristy Arnett just a little better. The spotlight is on her as she ferociously tames the "Lion's Den" at the poker table and challenges Lauren Billings to a prop bet on the golf course. Oh right, twerking and Layne Flack are also part of this episode too…
Warming Up
We join the crew at a cash game with a $5,000 minimum buy-in and $100 optional straddle. The Flop is ♥ A ♥ 6 ♦ J. We see Arnett ♦ 6 ♣ 6 go head-to-head with Mueller ♦ 8 ♦ K. He bets $300 and Kristy calls. The Turn brings a ♥ K and Mueller checks and Kristy then bets $900. Mueller folds and Kristy takes a $575 win.
Next, we watch Arnett in the Pre-Flop with ♠ 3 ♣ 3 and Deeb with ♠ 8 ♦ 8. The Flop is ♣ Q ♦ J ♣ J. Deeb has the edge at this point with 2 higher pairs. He checks and Arnett Bets $550. Deeb calls $550. The Turn comes out ♥ 5 and Arnett bluffs it with a $1300 bet, which pulls Deeb in and he calls. The River is ♠ 2. Both opponents check and Deeb comes out the winner with $2,225.
Kristy Arnett Up Close and Personal
Kristy takes center stage in this episode and we get to hear more about her poker aspirations and what she does for a living. As a poker host, writer, producer and podcast host for a well-known poker site, Kristy travels to all the big tournaments and she interviews some of the world's most well-known poker players. She describes herself as self-confident but at the same time, she can be intimidated and have anxious moments. For the meantime, she's managed to keep those emotions at bay at Poker Night in America. She hopes that people who watch her play will have more respect for her game and that it will help her with her job and boost her reputation in poker.
Female Intimidation
We return to the poker table, or an "Open Fire' as Chris Hanson calls it, where the blinds are $25 and $50 with an optional $100 straddle. With the game ending before the Flop, perhaps he's right. Levi, Schneider and Mueller all fold. Kristy ♣ J ♦ J raises to $150 and Mike Matusow ♥ 4 ♦ 4 calls. Matt Glantz ♥ 10 ♦ K raises to $600 and Gavin Smith folds. Kristy re-raises to $2,100, which evidently scares off Matusow and Glantz who both fold. Kristy continues with another $825 win and then does it again in the next hand when she goes head-to-head with Schneider on the Turn and wins $4,525.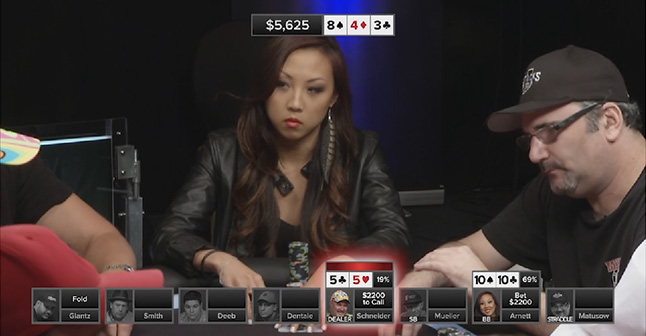 Kristy Arnett in the "Lion's Den"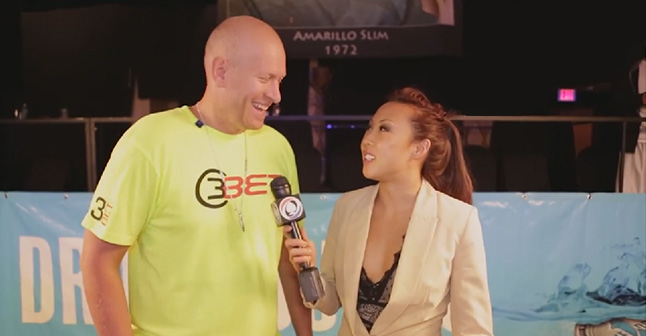 Arnett goes from interviewing world class poker players to becoming one.