Poker Night in America - Episode 4 Recap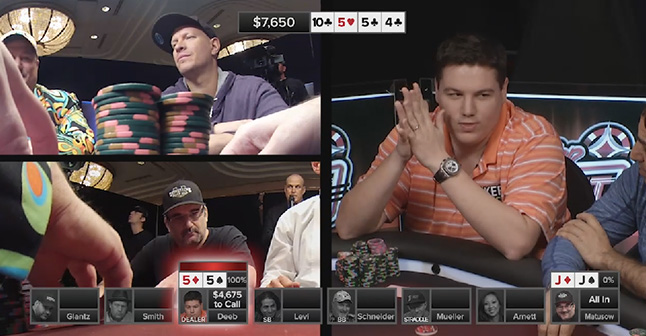 Until now it's been mostly friendly competition at the Poker Night in America table. But things get super heated in this episode between Mike Matusow and Shaun Deeb over a slow roll and all hell breaks loose! Even the executive producer, Todd Anderson had to intervene to restore order.
The Calm Before the Storm
The poker action is everywhere this week at the Turning Stone Resort in Upstate New York. Not only is the Poker Night in America invite-only cash game in full swing, Turning Stone is also hosting the Empire State Hold'em Championships. It's a huge 2-week event with a prize pool well over $600,000. Some of our big name pros made the final table, including James Rubin in 7th place with $20,144, Matt Glantz in 6th place with $26,343 and Will Failla in 5th Place with $32, 851. First place went to Adam Foster with $154,458.
Next, we get some insight from the pros about the differences between cash games and tournaments. Tom Schneider lets us in on his "Donkey Bomber" tactics for each style of poker, saying he takes a lot more risk in cash games because he can re-buy. In a tournament, surviving is more important than accumulating chips, so Schneider tends to call more and move in less when he's in a tourney.
Matusow Goes Mad
Matusow loses $13,000 to Schneider and this sets the scene for what's about to come next. Matusow ♦ J ♠ J goes head-to-head with Deeb ♦ 5 ♠ 5 and Flop is ♣ 10 ♥ 5 ♣ 5. Matusow bets $1,000 and then Deeb takes his sweet time to call, even though he's got the stone cold nuts. The Turn comes out ♣ 4 and Matusow goes all-in. Again, Deeb takes his time as if he has a very hard decision to make and then finally calls. Deeb wins $6,250, putting Matusow down another $6,000. After a hearty dose of laughter around the table, Matusow points the finger at Deeb for slow rolling him, which means he took an incredibly long time to call when he knew he couldn't lose under any circumstances. Most pro players consider this bad poker etiquette. Matusow threatens to quit and storms out.
Poker Night in America producer Todd Anderson rushes over to the set to calm Matusow down. Schneider and Levi also go over to comfort him, but we're left hanging at the end of this episode. Will Matusow stay in the game or is he out? We'll find out in episode 5!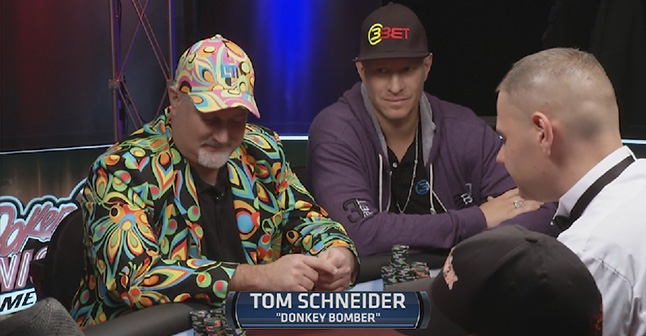 Schneider reveals his "Donkey Bombing" tactics
Arnett is shocked at the slow roll that just played out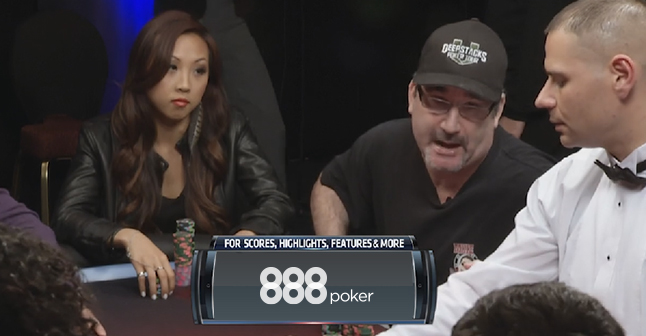 Matusow telling Deeb where to stick it