Poker Night in America - Episode 7 Recap – Behind the Scenes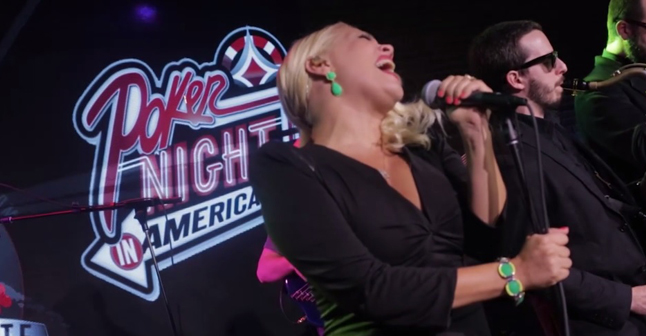 It may look easy, but putting together Poker Night in America is no easy task. As episode 7 opens, host Chris Hanson takes us "underneath" the felt which he quickly points out means going behind the scenes of Poker Night in America.
We meet producers Matt McGregor and Tony Mangnall who show us exactly what goes into creating a slick, fun poker show. While everyone thinks about setting up cameras and the table, the producers show us a lot more goes into it. Laying carpet, solving logistics issues, and playing with lots of technology are just some of the issues that the crew deals with before every shoot. It's by no means an easy job, but the crew highlights that there are some perks that come with the job, like "being treated like a rock star."
And back to the poker…
Knowing how the show is made makes the first hand of the episode that much sweeter. And that first hand is a doozy. After a little bit of banter between Mike Matusow and Shaun Deeb , Mike Matusow raises blind (without looking at his cards). Greg Mueller takes advantage of raises to $600 but Matusow, who still hasn't looked at his cards, calls Mueller saying that if he raised blind, he might as well call blind as well.
David Levi and Tom Schneider drop out of the hand and the flow of 8 ♠ Q ♥ 10 ♠ gives Mueller's 9 ♣ 4 ♠ the advantage over Matusow's 6 ♦ 4 ♦ . Matusow realizes this and decides enough is enough, folding and giving Mueller the $2,100 pot.
And back to the silliness…
Poker Night in America set out to be a different type of poker show and in this episode it proves its raison d'etre with a poker edition of Guess Who. Greg Mueller and Matt Glantz go head to head in this modification of the poker kids' game. In just a few questions both players narrow down their potential players rather quickly and not wanting to lose, Mueller takes a 50/50 chance…and guesses wrong.
About that table…
We go back behind the scenes and take a look at the table that the players are playing on. Embedded in the table are radio sensors that read chips in every card so Poker Night in America can provide real time graphics for the cards on the table. On top of that, there are nine HD cameras installed that provide the hole card views that make watching Poker Night in America so much fun. Sort of like the last hand between Mike Dentale and Tom Schneider (you can read about it here).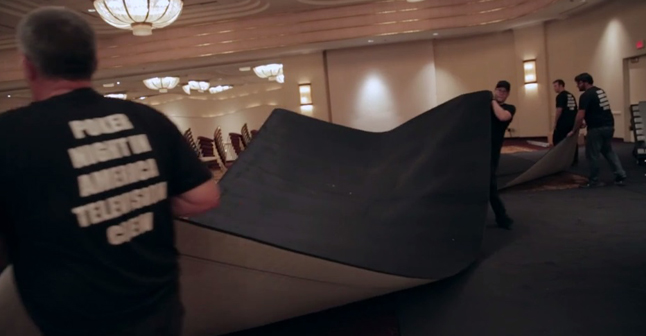 The crew that makes Poker Night in America possible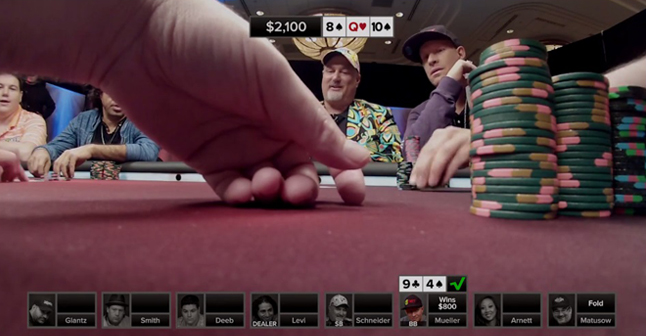 Mueller makes Matusow pay for his blind luck.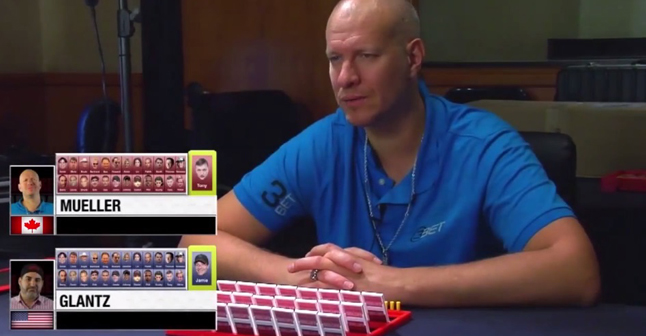 Matt Glantz and Greg Mueller compete in the World Series of Board Games.