Poker Night in America - Episode 12 Recap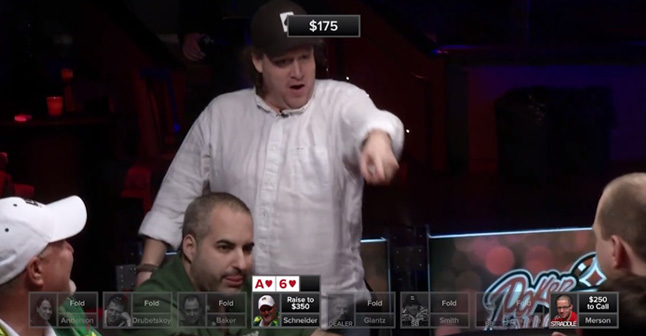 The players get extra playful in this episode. Maybe the intensity of the game is getting to them, or maybe it's…the BACON. The Poker Night in America crew is beginning to wonder if Tom's Schneider's unique outfits, bacon patterned jacket included, have poker powers of their own. Did they help Schneider become the famous Donkey Bomber or is he just that good? You'll find out as the Poker Night in America players carry out a little scientific experiment at the table in episode 12.
Poker Players Wrapped in Bacon
In the previous episode, Smith borrows Schneider's bacon patterned jacket but takes it off because he gets a little over heated. Anderson tip toes over to the jacket and slips it on without Smith noticing. She sits down again, goes into the next hand and says "Hey, play a hand Gavin". He looks right her, not noticing she is wearing his jacket and says "I just f&$!?*% lost $2,000 in a hand". She teasingly answers back "Sorry, I don't notice little things." Anderson ♣ 7 ♣ 6 raises to $150. Drubetskoy ♦ J ♦ 8 calls and so does Schneider ♥ A ♠ 9. The Flop come out ♣ 5 ♦ 6 ♠ 4 and Smith still doesn't realize that Anderson has stolen his jacket. Anderson continues to tease Smith, offering him chocolate covered pretzels. She bets $400 and both Schneider and Drubetskoy fold. Anderson takes the pot. Pay attention, she's wearing Schneider's jacket!
But the antics don't stop there. Anderson tells everyone that she loves chocolate covered pretzels, but there is something else she loves even more dipped in chocolate. Bacon, of course! She asks Smith if he's ever tried it and he says "I might when I have my jacket." He folds out of the next hand, gets up and starts looking for it. "Where is it?" he says. And only then, he finally notices that Anderson is wearing it. Too many Greyhounds today, Smith?
Spotlight on Schneider
To find out if his wardrobe really does have mysterious powers, we have to get to know Schneider a bit better. This soft spoken, loudly dressed player has 4 WSOP bracelets and over $2,000,000 in poker earnings, not to mention a silky singing voice. He's considered one the toughest mixed game players around, with no limit being more of his secondary game. His peers describe him as a joker but gets super serious when it comes to poker strategy.
The Results Are Conclusive
After losing a big pot, Anderson gives the jacket back to Gavin and he 'magically' wins a hand against Somerville! So it looks like Schneider's wardrobe does has special powers after all. And as Chris Hanson concludes, "everything is better, with bacon". Nolan Dalla struts his stuff in infamous jacket and we say goodbye to the Poker Night in America cast, until next week.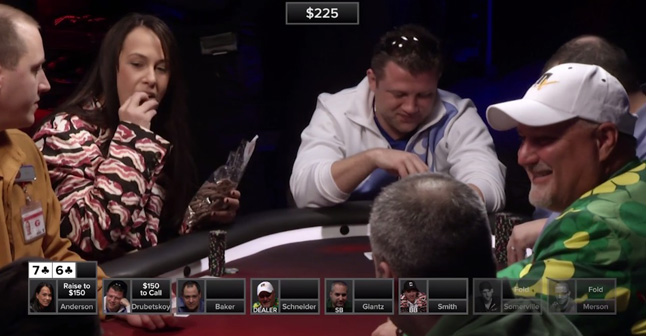 Anderson's lovin her bacon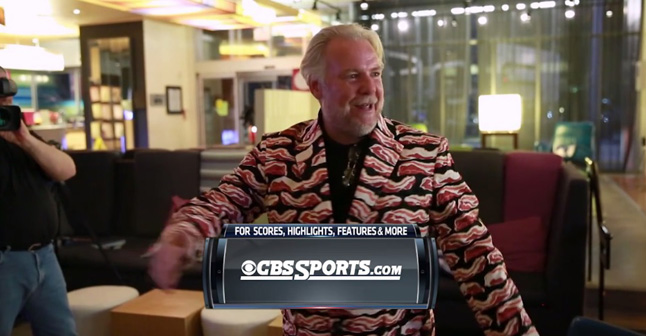 Nolan Dalla tried the magic jacket on for size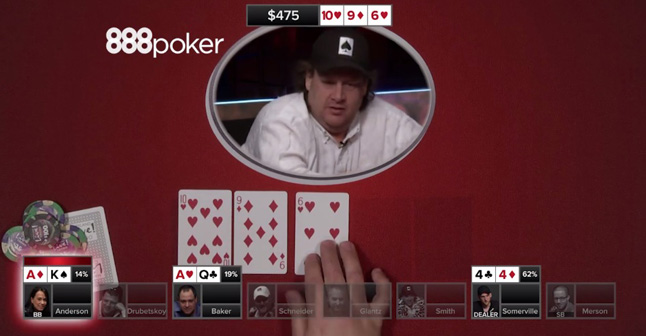 Smith sings us a sultry tune