Poker Night in America - Episode 13 Recap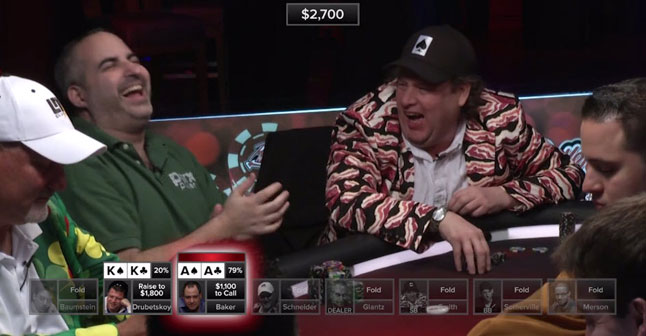 Episode 13 of Poker Night in America is full of banter, and plenty of BIG plays. Smith, Glantz and Schneider are in top form as they hog the limelight. But the big wins come from Baker as he lands multiple pocket rockets throughout the evening. As usual, Schneider, Glantz and Smith have a great repertoire going. This episode of Poker Night in America is a big wake-up call for Drubetskoy… but you'll have to watch the show to see just how much he misjudged his hand. Later on, US Olympic sensation Michael Phelps gets into it with the 'Court Jester' Gavin Smith with hilarious consequences!
Revving Matt's Poker Engine
Drubetskoy was having a tough time of it all evening. He routinely found himself on the receiving end of Smith's jokes, but he took it all in his stride. For his part, Matt Glantz was also struggling to put together winning hands, but he eventually started hitting his straps. His first opportunity came when he and Schneider got into it. With Matt running low on chips, the other players started riling him up. Glantz decided to go all in against Schneider – winning a $1,600 payday.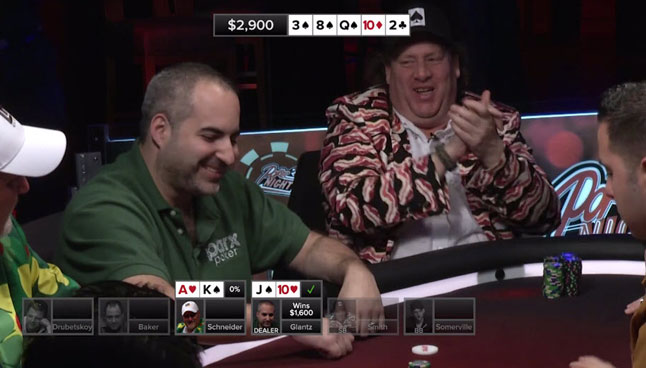 Glantz celebrates after beating Schneider
Kudos for Matt Glantz
'Matt's awesome! Matt's fun! I love playing with Matt – he needles everybody's areas. He has plenty of action – he's good for the game. I like him!' said Smith during the show. Somerville went on to pay tribute to Matt Glantz too, 'He really is a great ambassador for the game. He speaks eloquently, you know but articulately. I think that he's someone I really admire a lot.' Matt is really happy to be promoting poker as it gains more recognition in the US. He feels that it's a great way for him personally to strategize and participate especially since he's over 40 years old and shooting hoops or hitting homers is not really something he can do at neighborhood games anymore. And Matt's game is as sharp as ever… he just didn't take home the biggest pot of the evening… that was left to Baker!
Aces Galore for David Baker
While the early part of the evening definitely belonged to Glantz, it was David Baker who really cashed in. Here's how the wins started accruing for Baker pre-flop: Baumstein in the BB position was holding an A ♥ K ♥, Drubetskoy Q ♥ 7 ♥, and Baker A ♠ A ♣. Drubetskoy folds his cards leaving Baumstein and Baker in the hunt. Baumstein raises to $1,000 and Baker raises to $2,000. Scott Baumstein didn't know that his pre-flop hand only had an 8% chance of winning against Baker's hand. Scott goes all-in with $6,000. Baker calls. The pot is now sitting at $12,075. The Flop reveals a 4 ♣, K ♦ 5 ♥. The Turn is a 2 ♦, and the River is a 10 ♠, and David 'ODB' Baker cleans up!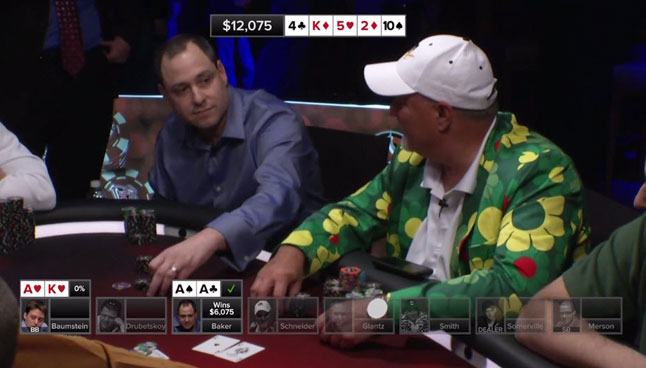 Baker's Aces stun Baumstein
The Dismantling of Drubetskoy
Baker's J ♣ J ♥ gets the better of Drubetskoy's J ♦ 8 ♦ yet again when he calls and wins another pot – this time for $3,775. Drubetskoy is shocked, but he's still got plenty of firepower in his stack.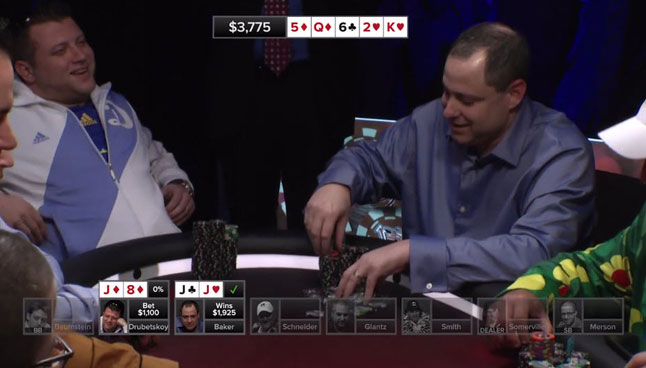 Drubetskoy is surprised by Baker's hooks
Baker gets plenty of credit from Glantz during the commentary in the Episode 13. He considers himself a player without a style…sort of a chameleon who is able to adapt to his surroundings with a mix of loose play and aggressive play as the game demands. Matt Glantz goes on to best world champion Greg Merson with a straight. He cleans up with a $14,925 pot, leaving Merson stunned. Baker keeps hitting Aces, and again nails a winner with a $3,450 pot to collect $1,900 in winnings. But the biggest play of the evening is the showdown between Drubetskoy and Baker. Holding a pair of Kings was insufficient against Baker's pocket Aces – yet again. Play goes back and forth, and after a series of calls and raises, Baker takes down a monstrous $17,000 pot!