Poker Night in America - Episode 16 Recap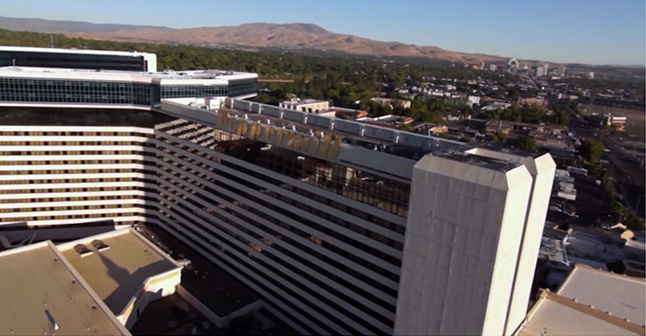 In this episode, we follow Poker Night in America to its next destination – the Peppermill Resort in Reno, Nevada. A bunch of new players join the cash game, most notably the late Chad Brown, who sadly passed away a few months after the filming of episode 16. One of the most respected and well liked poker personalities, Chad Brown was a model ambassador for our favorite pastime and he will remain an inspiration to all of us.
A few more poker celebs fill out the felt at Peppermill, including Matt Berkey, Daniel Harmetz, Mark Bonsack, Todd Brunson and Karina Jett.
Todd Brunson Takes a Beating
Todd Brunson is the son of Texas poker legend Doyle Brunson. In 2005, he won a WSOP bracelet in Omaha High Low, making the Brunsons the first father and son combo to each win bracelets at the World Series. In this episode, Brunson is one of the most active players at the table, yet he ends up losing quite a few big pots. At the top of the episode, he goes head-to-head with Daniel Harmetz. Brunson has J ♦ 9 ♦ and Harmetz has 5 ♦ 3 ♦ . The Flop is 10 ♦ 5 ♣ Q ♦ . Both players make big raises and Brunson goes all-in before the Turn. After revealing their hands, Brunson asks to run it twice and the boards come out 10 ♦ 5 ♣ Q ♦ 5 ♥ 2 ♣ and 10 ♦ 5 ♣ Q ♦ 3 ♣ Q ♥ . The quiet Texan says goodbye to a $19,600 pot and Harmetz collects his first big win at Poker Night in America.
A Little Bit of Magic
Poker player and magician Scotty Nguyen closes the episode by performing a few impressive card tricks for Nolan Dalla and Kristie Wolfe. He 'magically' deals both of them Pocket Aces in their poker hands and performs a "69" card throw that stuns Kristie just a bit…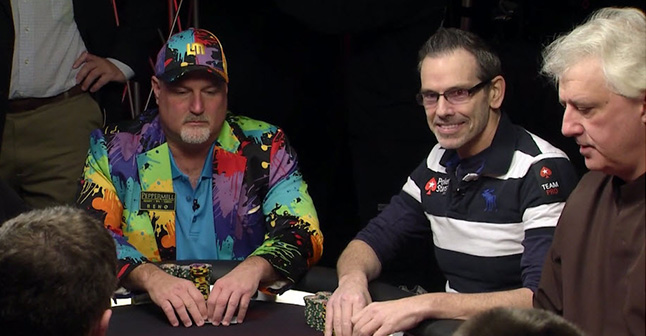 The late Chad Brown joins Poker Night in America
Brunson coming to terms with losing a $19,600 pot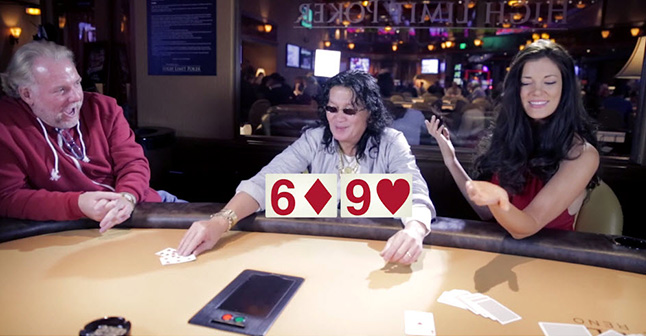 Scotty Nguyen shows us a little poker magic