Poker Night in America - Episode 21 Recap – A Tale of Two Bluffs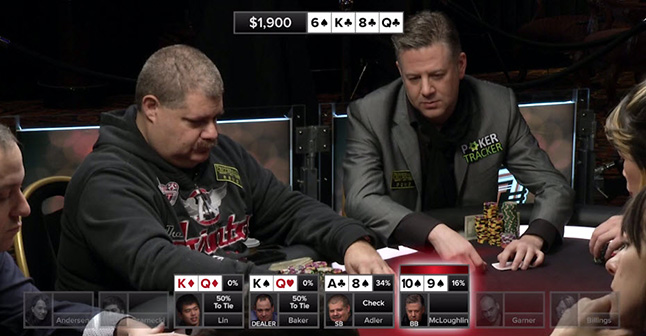 "We got some poker going on now, boys" David Baker announces after the second of the two bluffs. The excitement is contagious in episode 21 which features two big bluffs, insight into Steven McLoughlin, and a crazy party.
The first hand comes with four players seeing the flop. David Lin has K ♦ Q ♦ , David Baker also has K ♠ Q ♥ , Al Adler goes in with A ♣ 8 ♠ , and Steven McLoughlin is the final player in with 10 ♠ 9 ♠ . The flop of 6 ♠ K ♣ 8 ♣ doesn't really help anyone and leaves the action wide open. All players call $325 and the Q ♣ on the turn gives Adler a possible flush (and the two Davids two pair). David Baker bets $725 and that knocks McLoughlin out of the hand. The river is a 2 ♥ which gives the pot to both Davids, if they stay in. Adler bets $2,200 and that causes David Lin to fold but David Baker takes a minute before he calls . David Baker is clearly relieved that he had the nuts, while David Lin kicks himself for having the same hand.
In the next hand Steven McLoughlin tries to bluff his way to a win against Al Adler. Al Adler has 9 ♥ 6 ♥ against McLoughlin's A ♥ 9 ♦ . Through the turn the board is 10 ♥ 5 ♦ 8 ♣ 2 ♦ giving McLoughlin the advantage, but the river 7 ♠ gives Adler the straight. But McLoughlin makes a huge bet of $5,000 making Adler really wonder if McLoughlin has the higher straight. He reluctantly calls and is relieved when he sees McLoughlin's second card is an ace and not a jack.
"We got some poker going on now, boys," David Baker says. We sure do.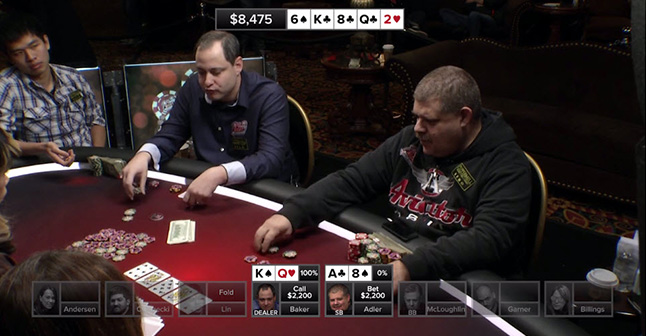 David Baker takes some time before calling.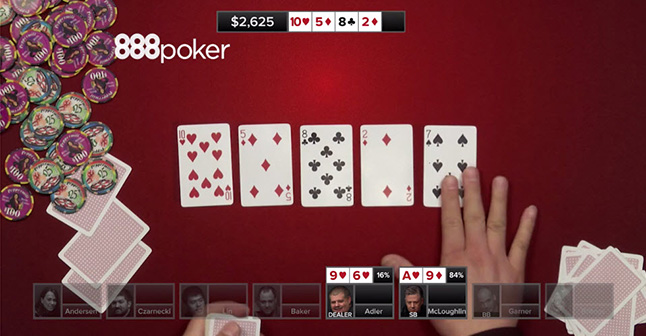 Adler gets the nuts on the river.