Poker Night in America - Episode 22 Recap – Double Monsters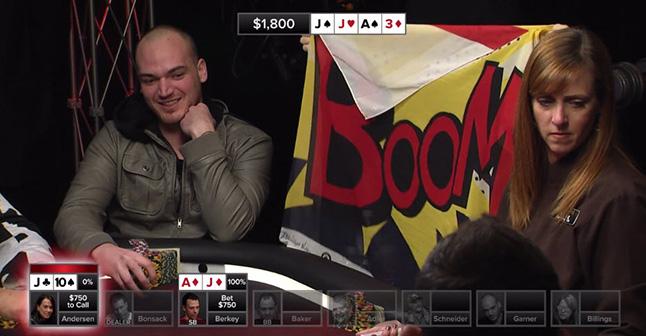 It's been a long stretch for the Poker Night in America cash game at Peppermill Casino in Reno, NV, but alas, all good things must end and this is the final episode at the casino. As Chris Hanson mentions in the intro, it's been a good run, with tons of poker action and we saw one of the last appearances of Chad Brown, before his tragic passing.
And to start off the episode we get a doozy of hand between David Baker and Al Adler. David Baker has J ♦ 4 ♦, Adler has A ♣ 7 ♣, and Tom Schneider tests the waters pre-flop with 4 ♠ 2 ♠. The flop comes with A ♦ 8 ♥ Q ♦ and Baker bets $250, Adler calls and Schneider drops out. The turn is a 6 ♦ giving Baker the flush and he checks, passing the action to Adler. Adler bets $700 and Baker raises to $2,050, which Adler calls. The river Q ♥ can't help Adler and Baker again bets $2,050. Adler calls and is visibly tilting after Baker shows his flush, muttering a conciliatory, "Nice hand."
The monsters come out
Sometimes the flop goes your way, and unfortunately, sometimes it does a bit more for someone else. That's the case in a hand between Danielle Andersen and Matt Berkey. Andersen has J ♣ 10 ♠ against Berkey's A ♦ J ♦, and David Baker starts off in the action with 6 ♠ 5 ♠. The flop is a big one: J ♠ J ♥ A ♠, ("Berkey just flopped a monster," says host Chris Hanson) giving Berkey a full house of jacks and aces. While Andersen ("who, unfortunately, flopped a smaller monster," Hanson remarks) flopped a set of jacks. David Baker quickly folds, leaving it a heads up match between Andersen and Berkey.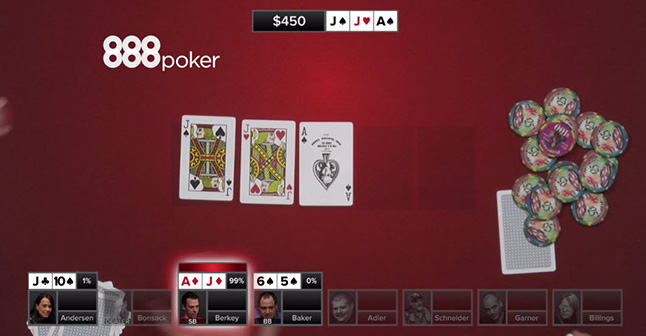 The flop that created two monsters
While Berkey makes a $750 bet and Andersen contemplates it, a toast is raised by David Baker to the table and Al Adler chokes down a double shot to the laughter of the table.
Back to the action, Andersen calls Berkey. The river is a 2 ♠ and Berkey bets $1600. Danielle calls and Berkey wins $2,950 on the hand . After the hand the players do a quick analysis and Mark Bonsack remarking that Andersen "definitely lost the minimum there. You played that hand as well as you could play it." And Adler also sends some admiration Andersen's way, "All things considered, how you're not felted [broke] there, I don't know."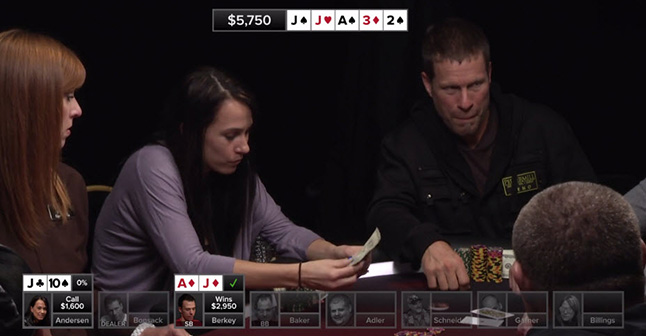 Andersen counts out her money after a hard loss.