Poker Night in America - Episode 24 Recap – Rematch!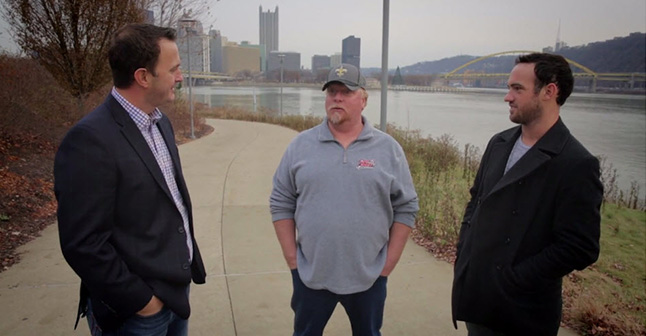 Outside the world of boxing, rematches are a pretty rare occurrence. But as host Chris Hanson points out in the beginning of the episode, this is the first time that the 2009 WSOP winner and runner up, Joe Cada and Darvin Moon, have sat down across the table from one another. The show interviews the two men "away from the felt" but before we get to that interview, there is a lot of poker to be played.
The show opens with Joe Cada telling how he'd like to become a poker analyst. While he contemplates his possible transition from the felt to the microphone, he enters a hand with Q ♠ J ♥ against Dan O'Brien's K ♥ Q ♦. The flop of 10 ♥ K ♦ 7 ♥ gives O'Brien the edge and he bets $450, which Cada calls. The turn of 3 ♥ helps O'Brien, but Cada bets $1,000 and O'Brien calls. The river of A ♦ gives Cada the straight and he bets $2,000, which causes O'Brien to fold pretty quickly.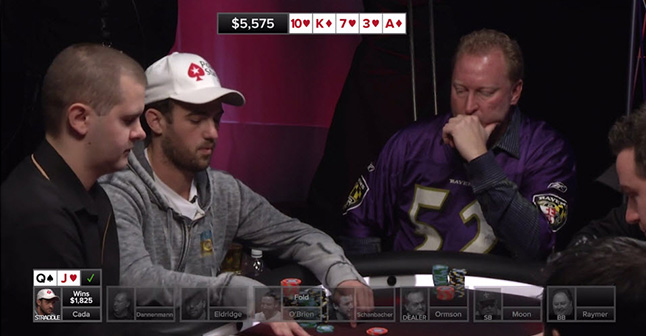 Cada`s straight causes O'Brien to fold pretty quickly
Friends or foes?
In the last few minutes of the episode, Chris Hanson takes a walk with Darvin Moon and Joe Cada and discuss the 2009 WSOP Final Table. Moon revealed that this his WSOP visit in 2009 was not only his first time in Las Vegas, but also his first time in a commercial airline. Joe Cada, had been to Vegas before, but 2009 was his first WSOP as he just turned 21 (Cada is the youngest ever winner of the WSOP Main Event).
Finally, Chris Hanson gets to the question we've all been wondering, "There's no bad blood here, right?" And like the professionals they are, there aren't any bad feelings . In fact, the two say whenever the run across the other, they sit down and have a few drinks together. Wonder what they talk about?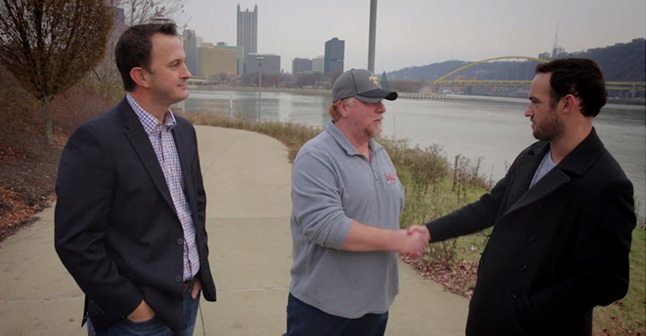 Pros not foes.