Poker Night in America - Episode 28 Recap – Rapid Fire Poker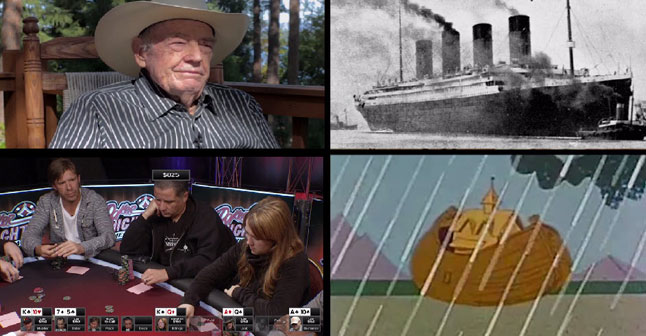 The hands are fast and furious in episode 28 of Poker Night in America, as they try to cram in as much poker as possible before the end of season 1. In this episode we are treated to eight different hands, and some of them are doozies.
One of those doozies is the second hand of the episode, which starts off with six players paying to see the flop of J ♥ 8 ♣ 6 ♦. A $600 bet from Layne Flack (A ♥ J ♠) knocks out the rest of the field except for David Baker who calls with 7 ♠ 5 ♣. The turn is a 4 ♥ which gives Baker the straight, but Flack is the first to act and he bets $1,300, which Baker promptly calls. The river is a J ♣, which only gives Flack false hope. Flack checks and Baker bets $2,600 which Flack calls and he is tilting after seeing Baker's straight . "Why do the pushing when the donkey is pulling, right?" Flack gripes as Baker collects his chips.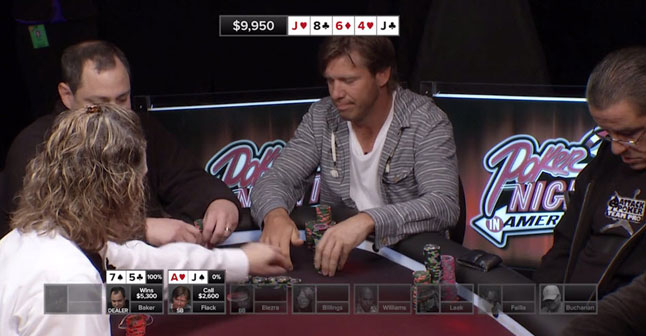 Layne Flack reacts to seeing Baker's cards.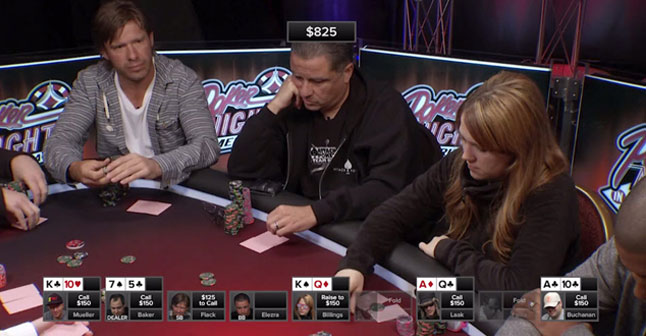 Lots of action in this episode of Poker Night in America
The legend speaks, part 3
Doyle Brunson, the Godfather of Poker, speaks to Nolan Dalla about his life, both in and out of poker. Brunson's life has been far from boring. Already in the first two installments of these interviews, we hear how he played for millions of dollars a hand in Vegas, and how he twice cheated death at the hands of robbers.
It's pretty tough to top that. Actually really, really tough to top that. But as Brunson tells Dalla about his investments, it's apparent he does top it.
Brunson helped finance an expedition to find the wreckage of the Titanic, and based on the information his team discovered, another team was able to find the Titanic. As if finding the wreckage of the greatest sea disasters in modern history wasn't enough, Brunson also financed an expedition to find Noah's Ark!
While none of these investments paid off, Brunson didn't seem to mind, "we knew that everything we were doing was all pretty speculative." Can't wait to see what stories he'll tell in episode 29.