Jessica Dawley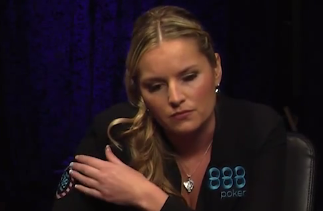 Name: Jessica Dawley
Nickname: Jessica888
Las Vegas, USA
About Jessica Dawley: 888poker pro Jessica Dawley is steadily becoming one of the games star female players. Born in Louisville, KY and raised in southern Indiana, Dawley's uncle taught her how to play poker when she was 6 years old. She was a natural talent, playing with high school friends to earn a little extra money on top of her waitressing job.
Dawley enlisted in the US Air Force, where she was deployed to the United Arab Emirates. During breaks from fighting the War on Terror, Dawley honed her poker skills amongst her comrades. She was winning so much in the Air Force she would have her friends help her carry her bags of money.
After the Air Force, Jessica decided to go pro and has a successful career at the felt. While mostly a cash game grinder, she's amassed over $130,000 in tournament winnings in her career. But it's not all work for Dawley, who also takes some time to enjoy the finer things in life.
Look for Jessica on season 2 of Poker Night in America and playing on 888poker using the username Jessica888.