Poker Hands From Episode 10 – First Win for Danielle Anderson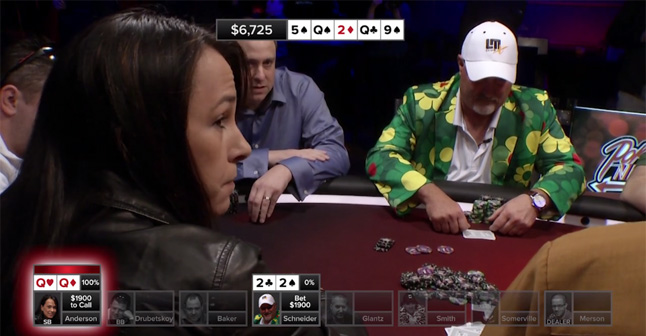 Episode 10 starts off with a high action hand that culminates in a head-to-head battle between Tom Schneider and new arrival Danielle Anderson. Will this up-and-coming cash game Queen be able to knock out the 4-time WSOP bracelet winner? Episode 10.
A Huge Action Flop
In the first hand of the episode, Schneider ♠ 2 ♣ 2 raises $125. Glanz, Smith and Somerville all fold. Merson ♥ A ♠ J calls and Anderson ♥ Q ♦ Q raises to $500. After Schneider calls and Merson folds, the Flop comes out ♠ 5 ♠ Q ♦ 2, which is destined to spark some huge action. With Anderson's set of Queens and Schneider's set of Deuces, the audience's anticipation is rising.
Full House Fantasies
Anderson bets $625 and Schneider calls. The Turn comes out ♣ Q and Anderson checks, now with Quad Queens. Schneider bets $1,200 and Anderson calls. Now there is almost $5,000 of cash in the pot and the River comes out ♠ 9, putting three Spades on the board. Anderson checks. Thinking that he's going to get paid for his Full House, Schneider bets $1,900. Anderson goes all-in at this point with $2,625 and Schneider calls with $2,625. Hands are revealed and Anderson wins, declaring "easy game".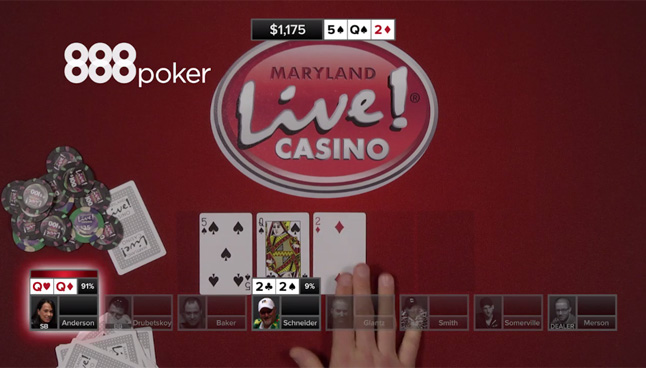 A huge action producing Flop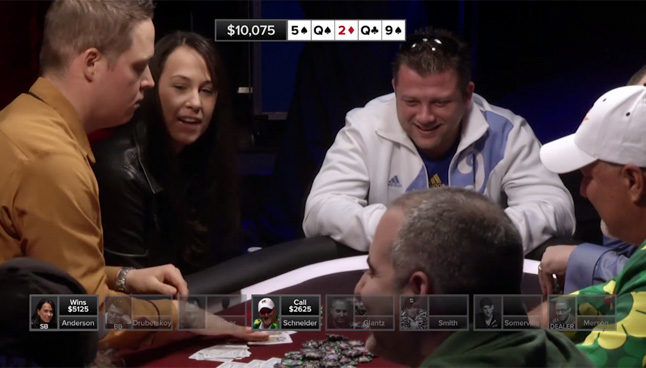 Anderson prevails in her first Poker Night in America hand