Poker hands from episode 22 - An Effective Stack?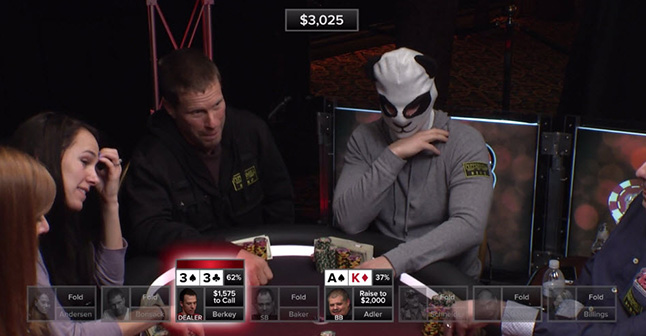 In the last hand of the night leave it to the guy wearing the panda mask to invent some new terminology (much to the chagrin of the senior players sitting around the table).
Matt Berkey won the honor of wearing the hand in the previous hand (see the episode recap) and started wearing it for this hand. Aside from his wearing a panda mask, he was also deal a pair of threes (3 ♠ 3 ♣). Lincoln Garner has 10 ♣ 8 ♣, Mark Bonsack has A ♦ K ♥ and Al Adler joins in the fun with A ♠ K ♦. Bonsack raises the action to $425, Berkey calls and Adler raises the action to $2,000.
The raise knocks Garner out and Bonsack takes a long time to decide whether to call or not. Bonsack tries to talk to Adler over the table talk of Schneider, but can't get anything out of Adler. "I am going to fold and it is so ridiculous," Bonsack says sliding his cards towards the dealer, "I'm going to be embarrassed when this show airs. I am going to be embarrassed."
Bonsack's fold makes it Berkey going head-to-head with Adler. "What are you playing in bills?" Berkey asks Adler.
"It's like $20,000" Adler says.
"So your effective stack is $20,000, ok."
David Baker can't let this pass, "We're using words like effective stack?" Tom Schneider gets a needle in, "Effective stack? I don't even know what that means."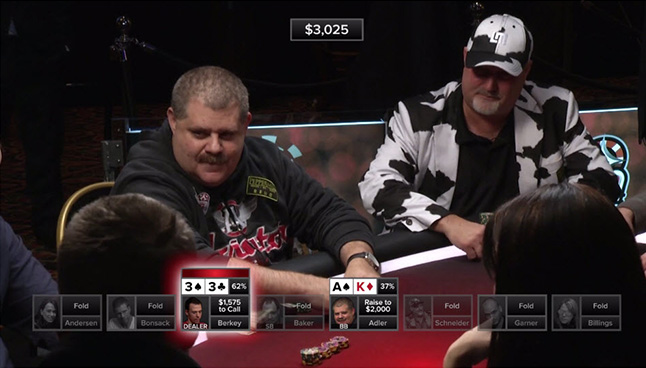 Tom Schneider can't believe his ears
An embarrassed Berkey offers up an apology but Baker goes on to explain, "We're all old live players, we don't know what that means."
As Berkey makes the call, Bonsack urges him on, "Get 'em, get 'em!" With Berkey's call the total of the pre-flop betting is $4,600 in the pot. The flop is 9 ♣ 6 ♣ A ♥ giving Adler the clear advantage. Berkey sees the flop and promptly folds. But Adler doesn't get the win so easily. The table announces that there's a "two card penalty" for some reason, and while Adler milks it, he eventually flips them both over.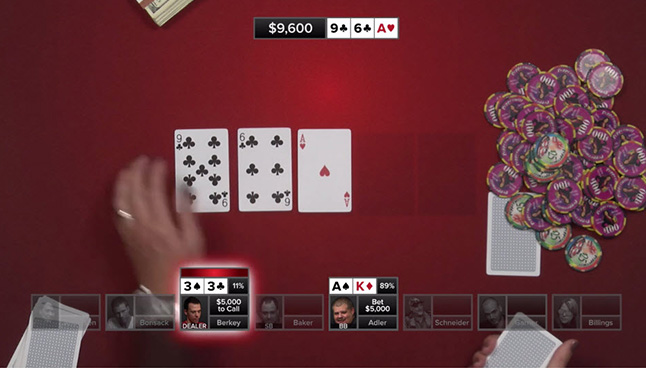 The flop goes Adler's way and Berkey knows it.