Poker Hands From Episode 9 - Banter, baby !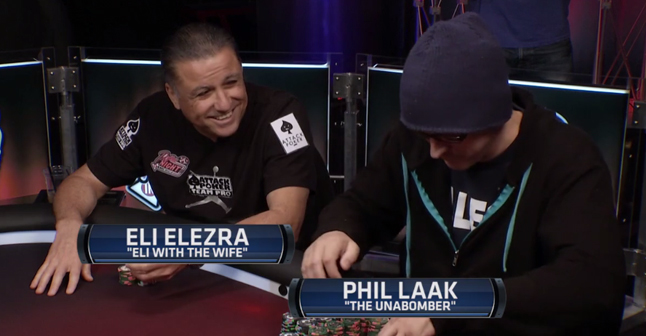 In an episode that's chock full of wisdom, it's only natural that a good amount of hands were decided more by the banter around the table than the cards on the felt.
The banter plays a part in a heads up hand between Eli Elezra and Phil "Unabomber" Laak. The pre-flop betting has Laak trying to get into Elezra's head. Asking questions, "What kind of flop do you want? What are you doing, kid? You're the best! Why do I play hands with you? " All go unanswered and it's Elezra's A ♠ K ♣ vs. Laak's 10 ♠ 3 ♠. The flop is dealt and its 8 ♣ J ♠ 9 ♦ which prompts Elezra to check. This elicits more questions from Laak, "How much you playing there, kid? Is that less than $10,000?" When Elezra tells him it's about $7k, Laak says, "I'm going to give you action, kid. Easy money, you can pick me off" and bets $5k. Elezra immediately folds, who despite the odds being about even, didn't want to risk his stack on Laak's banter (or cards).
Pre-flop purity
The last hand of the night features a Laak-ism, we see a hand that features David Baker with 10 ♦ 8 ♣, Phil Laak with 9 ♦ 7 ♦ and Shawn Buchanan with J ♥ 3 ♥. The flop is Q ♥ K ♣ 10 ♠ and Buchanan bets $225 which forces out Baker and Laak. But before Laak goes quietly into the night he shows his cards to Eli Elezra and laments the purity of his hole cards and how the flop ruined his "pre-flop purity."
Dalla banters on skill
No discussion about poker hands would be complete without the skill vs. luck debate. Like most poker pros, Dalla comes down on the skill side, saying that it's both and luck only in the short-term. What is the determinate of skill? "Time," Dalla says. Dalla then sets up a scenario: if a complete amateur played 2,000 hands against Phil Ivey, who would win? Dalla (like the rest of us) would put his money on Phil Ivey. "It's absolutely a game of skill. Yes," he says as the show closes.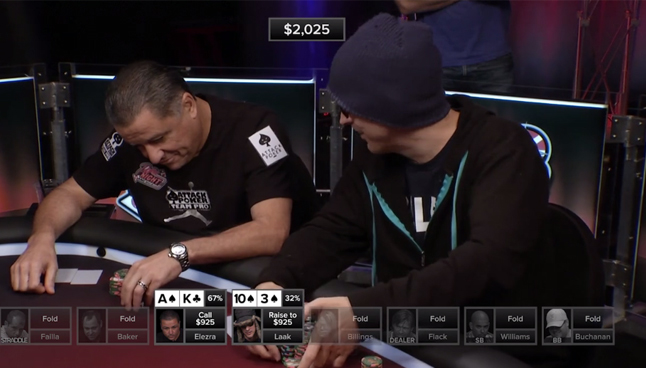 Phil Laak jokes around with Eli Elezra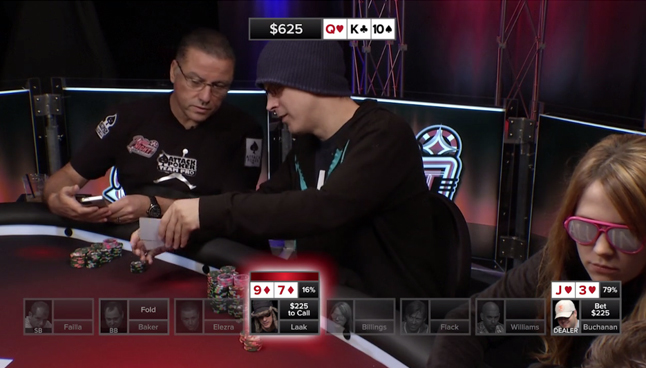 Laak laments his pre-flop purity.