Poker Hands From Episode 16 - Chop Chop!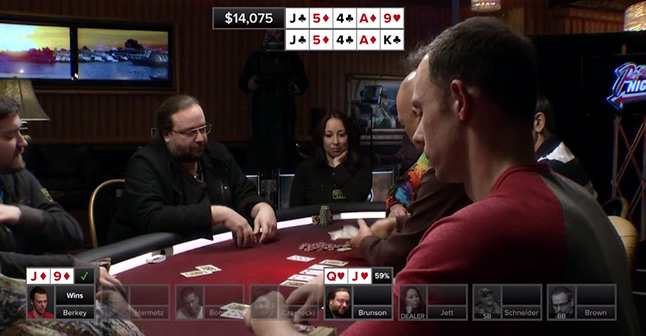 Todd Brunson and Matt Berkey go head-to-head in this episode, laying some big money on the table at the Peppermill Resort in Reno, Nevada. The action starts with Berkey J ♦ 9 ♦ making his standard raise of $250. Brunson Q ♥ J ♥ calls and the Flop comes out J ♣ 5 ♦ 4 ♣ . Brunson bets $400 and Berkey raises to an impressive $1,600. Brunson contemplates his next move for a long time and decides to call. Even though he's in the lead, his facial expression and body language seem uneasy. The Turn comes out A ♦ , giving Berkey a Flush Draw. He bets a whopping $5,000 and Brunson calls it, essentially going all-in and increasing the pot to $14,075. Berkey quickly announces that he has a Pair and Flush Draw. Brunson asks to run it twice. The first one is J ♣ 5 ♦ 4 ♣ A ♦ 9 ♥ , giving Berkey Two Pair and the second one is J ♣ 5 ♦ 4 ♣ A ♦ K ♣ . In good poker etiquette, they call "chop chop" and split the second one so Todd doesn't lose out on both hands.
In poker games, players can call "Chop Chop" and split the pot if they get to Showdown and have the same valued winning hands. In this case, both Brunson and Berkey each had a Pair at Showdown with the second set of board cards. Because this is a tied hand, they could agree to split the pot.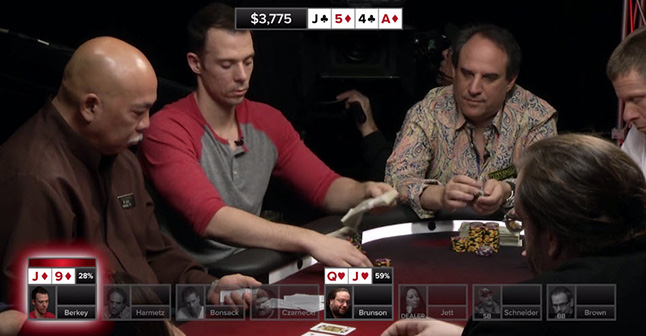 Berkey puts a $5,000 wad of cash down