Poker hands from Episode 27 - Flack attack!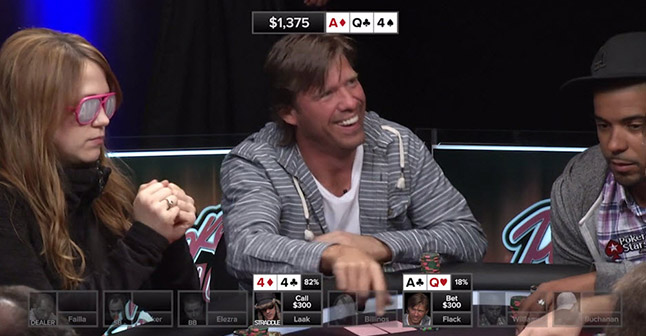 Layne Flack is back in episode 27 of Poker Night in America and he is seemingly in some of the most exciting hands of the episode. The winner of six different WSOP bracelets proves in this episode just how he won those tournaments and why he's one of the more entertaining personalities in the game.
One of the few hands that didn't go Flack's way was one against David Williams, the 2004 WSOP Main Event runner up. Flack entered the hand with a pair of nines (9 ♣ 9 ♦) and the tight playing Williams enters calls Flack's $175 with Q ♦ J ♦. David Baker also gets in action with K ♣ Q ♥. The flop is 2 ♣ 5 ♠ 3 ♦ which helps Flack the most. He bets $400, which Williams calls and forces Baker to fold. The turn is a 4 ♠ which causes Flack to check fearing that Williams has an ace and a possible straight. David Williams lets Flack think about that as he bets $750. Flack thinks aloud, "there's nothing I can beat." He folds the hand but Williams shows him he was bluffing, "I'm sure I would have gotten there on the river."
Layne Flack has a decision to make
A big winner
The very next hand Flack is back at it, raising to $350 with A ♣ Q ♥. The only taker is Phil Laak with a pair of fours (4 ♦ 4 ♣) and tells Flack, "I gotta play with you, kid. I got a big hand." The flop is A ♦ Q ♣ 4 ♠, giving Laak a set of fours. Despite having a set, Laak checks and Flack bets $300. Laak holds out a large stack of chips and drops a few, calling the $300 and faking out the entire table. The turn is an ace (A ♥), instantly turning the hand to a winner for Flack. Both check and the river is the Q ♠, giving Flack two sets. Laak bets $625 and Flack tries to warn Laak, "You don't know how brutal that card is." Flack then raises to $2,000. Flack then goes on to tell the table, "It's the most brutal card in the deck."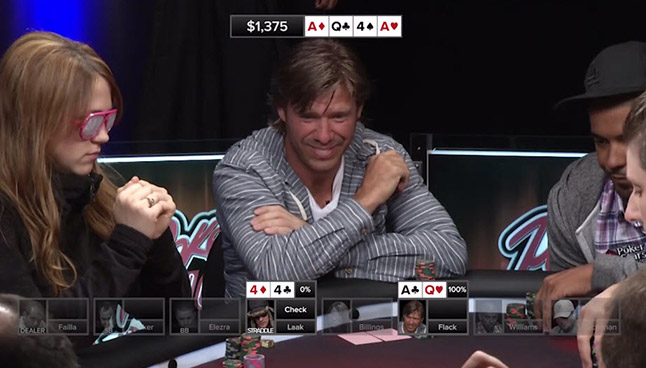 The flop doesn't go Flask's way, but he'll wait for the turn.
Laak, getting ready to fold, responds laughing, "I thought this hand was worthless on the turn. But I thought maybe I would bluff a little." The two continue to talk about the hand for a bit longer, with Laak saying he should have folded on the turn. Flack disagrees with Laak, saying there was no way he could give up on the turn. As the cards for the next hand are being dealt, the two are still discussing the hand, with Laak saying he felt like he was beat and that he was "just goofing around." Laak insists that he had outs and Flack actually figures out that Laak had pocket fours.