Poker Hands From Episode 19 - Flip this full house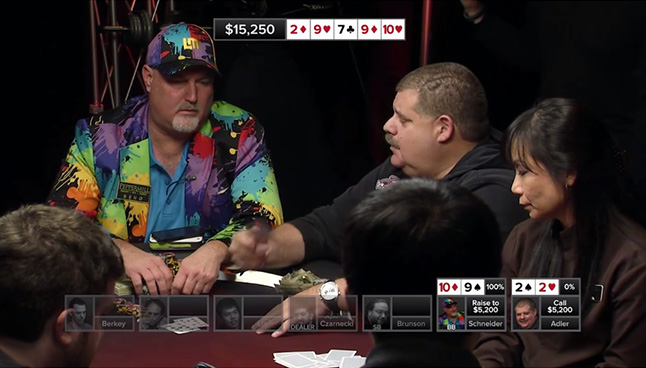 It's the last episode with this group of pros before episode 20 starts the second day at Peppermill Casino and episode 19 packs a punch with great hands. Below are descriptions of the two best hands from the episode.
It's not often where full houses can't take down a pot, but in episode 19 we see the dreaded gut shot where a full house suddenly falls.
The action in this hand starts off with a lot of players in the pot but the two left standing after the flop of 2 ♦ 9 ♥ 7 ♣ is Al Adler with 2 ♠ 2 ♥ and Tom Schneider with 10 ♦ 9 ♠ . The turn of 9 ♦ gives Alder a full house but gives Schneider a three of a kind. Schneider bets $1,300 and Adler calls with his full house. But the river is a 10 ♥ which trumps Adler's full house. The action is on Schneider and he checks, causing Adler to bet $2,000. Schneider raises to $5,200 which causes Adler to think long and hard before calling. Schneider flips his cards to show the reversal of fortune and Adler accepts his fate, while Schneider quietly collects his chips.
Two pairs, too bad
The next hand we see starts off much like the previous one, with a lot of players starting off the hand but only two making it past the flop. David Lin is the one who forces everyone out after the flop of 9 ♣ 5 ♦ J ♦ he bets $325. Hank Czarnecki has A ♦ 9 ♦ and he calls Lin's bet. The rest of the field folds and the turn is a 5 ♣ which leaves Czarnecki in a good position. Lin bets $575 and Czarnecki calls. The river is a K ♦ which gives Lin two pairs 9s and Ks but is helpless against Czarnecki's flush. Czarnecki checks and Lin bets $800, and Czarnecki makes his move, raising to $2,350. After a bit of dilly-dallying Lin calls and Czarnecki brings down the $7,250 pot, winning $3,850. And as Chris Hanson says at the end of the hand, "There's an old saying in poker: if you thing long, you think wrong."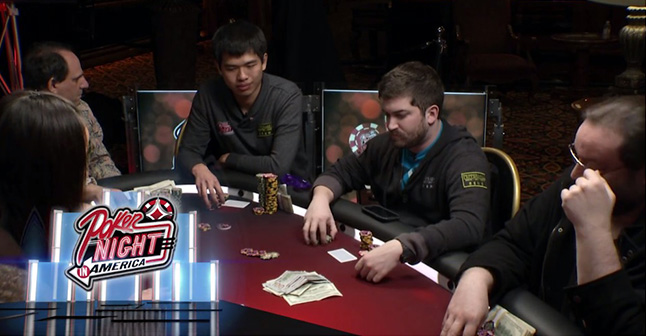 Two pairs but no luck. Czarnecki takes the hand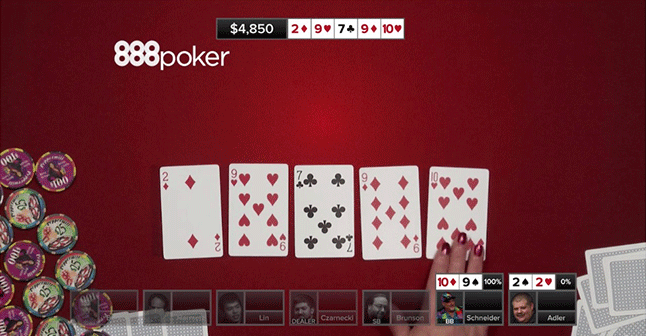 The 10 knocks down Adlers full house