Poker Hands From Episode 20 - How to play the worst hand in poker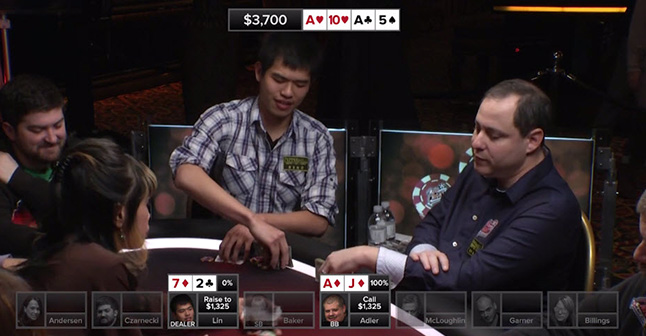 A lot of the hands on Poker Night in America feature players with strong hands trying to edge out an advantage over each other (while still having fun and creating entertaining TV). But David Lin tried do something completely different in episode 20 and almost pulls it off.
David Lin is dealt what is known as the Beer Hand (7 ♦ 2 ♣ ), because the cards are so bad it usually means that it's time to get up and get another beer. The hand was actually at the center of 888poker's April Fool's Day Promotion , that if you could win with this hand, you'd win. It's generally considered the worst hand in poker, but that doesn't stop David Lin.
Pre-flop its Lin, David Baker with 6 ♠ 4 ♠ , and Al Adler with A ♦ J ♦ . The flop is A ♥ 10 ♥ A ♣ and both Adler and Baker check, but the as the action falls on Lin he makes his play and bets $150. That causes David Baker to fold, while Adler raises to $300. Adler sensing that he has the best hand (and also engaging in a bit of psychological warfare), asks Lin, "Do you really have anything? Do you have something?"
After the turn of 5 ♠ , Adler bets $500 and Lin re-raises to $1,325, and Adler of course calls. The river is a K ♠ , which gives Adler the advantage. Adler checks and Lin tries to make one more move, betting $1,825. After a long pause , Adler calls and wins the pot.
Despite the loss, host Chris Hanson sums it up perfectly, "You really got to hand to David Lin, he really played seven deuce as well as you can in this hand."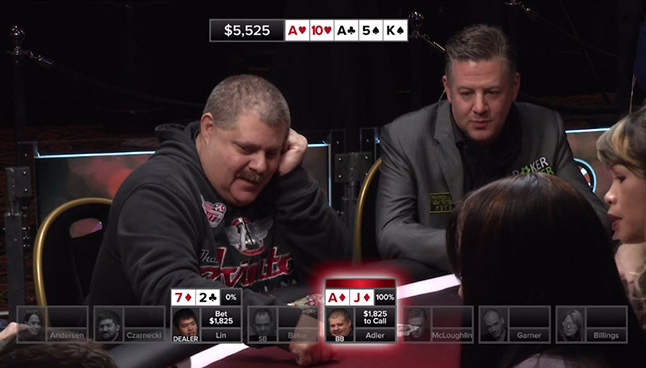 Al Adler wonders to call on a winning hand