Poker Hands From Episode 6 – A Good Bluff and a Bad Bluff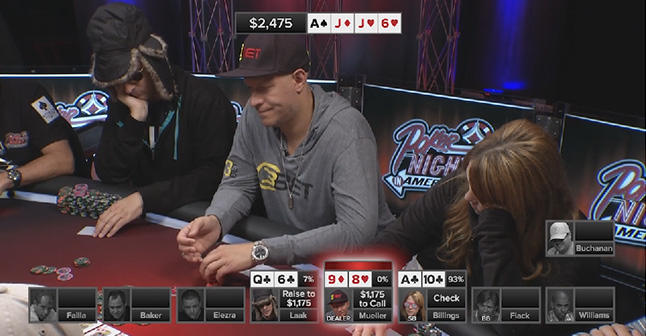 There is no shortage of poker sharks and unique personalities at the Poker Night in America table. This episode's cash game has a $5,000 buy-in and the blinds are $25/$50 with a $100 optional straddle. In this poker hand recount, we'll look at two bluff attempts – one that went well and one that bombed.
Laak's Bluff
Maybe it's the snow hat and sunglasses combo, or perhaps his quirky sense of humor. Whatever the reason, Laak pulls a successful bluff on Mueller in this episode. It starts with Elezra ♣ K ♣ 7 and he raises to $125. Laak's pocket cards are ♣ Q ♣ 6 and he calls. Mueller ♦ 9 ♥ 9, Billings ♣ A ♣ 10 and Flack ♦ Q ♣ 3 all call too. The Flop comes out ♣ A ♦ J ♥ J and everyone checks, except for Laak. With nothing but the Jack Pair on the board, he decides to bluff and bets $225. Mueller and Billings call and Flack and Elezra fold. The River brings out ♥ 6. Billings checks and Laak takes his bluff up yet another notch. He raises $1,175 on his Two Pair and he fools 'em. Mueller and Billings fold.
Mueller's Bluff
Mueller takes the pot after a head-to-head with Flack and he's feeling pretty confident, which is probably what lead him to do what comes next. A new hand starts and Failla ♠ J ♠ 9 raise to $225. Laak ♣ K ♥ Q calls, Mueller ♥ A ♥ 5 calls and so does Buchanan ♦ 10 ♣ 7. The Flop comes out ♣ 10 ♦ 3 ♦ Q and everyone checks into the Turn, which brings out ♣ Q. So Laak's got Trip Queens and Failla's got an open ended Straight Draw. Buchanan bets $325 on Ten Pair. Failla folds and Laak calls. Feeling perhaps a little too self-assured, Mueller tries to pull off a bluff and raises $1,125 with nothing but the Queen Pair on the board. Buchanan folds and Laak calls. The River is ♦ 7 and Laak checks. Will Mueller continue to run the bluff or has he had enough? Oops. He checks and Laak wins $2,200.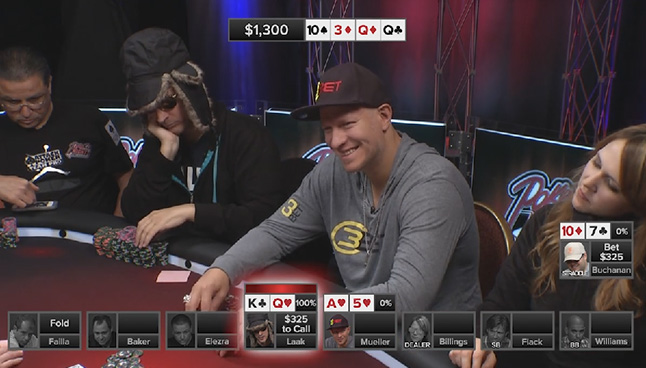 Mueller's bluff smile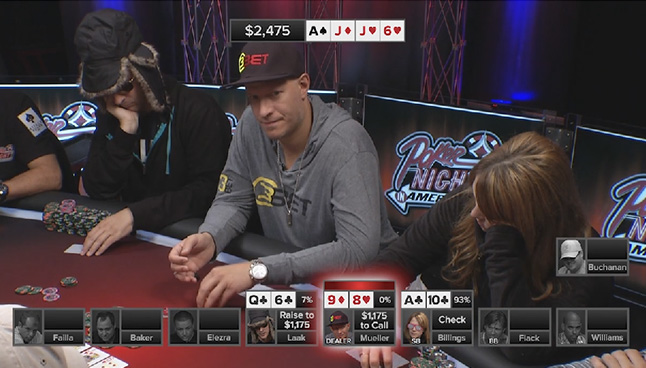 Laak's bluff in action