Poker Hands from Episode 1 –Matusow mows 'em down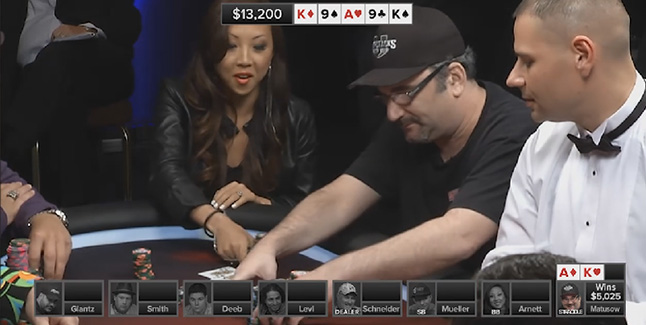 The first hand of the first episode of Poker Night in America was a doozy. After meeting the players in Las Vegas and flying them to Turning Stone Resort in Verona, NY, the poker action gets going with the flop going Mike "the Mouth" Matusow's way.
All the joking and comradery was off as the cards were dealt. Kristy Arnett and Mike Matusow were team captains who chose who would play with them at the table, so it was only fitting that they went head to head on the first hand. With Matusow straddling the hand with $100, the rest of the table folded except for Arnett who had pocket queens( Q ♠ Q ♥).
Arnett raised to $300 and we see that Matusow has A ♦ K ♥ and he re-raises to $1000. Arnett was confident with her hand raises to $2,400. Matusow doesn't miss a beat, and instantly goes all-in. Arnett, who has the pre-flop edge, calls and it's off to the races .
To say the flop is very kind to Matusow is an understatement. Despite Greg Mueller saying, "We're all rooting for Kristy," the cards were not. The flop of K ♦ 9 ♠ A ♥ gives Matusow two pair and the turn of 9 ♣ pairs the board. The river was especially cruel K ♠ which gave Matusow the full house .
Arnett forked over her chips, but in a post hand interview said she only had admiration for Matusow, who she's been a fan of for years.

And they're off!

Pocket queens vs. King Ace

The cards work for Matusow