Poker hands from Episode 23 - Not waiting for the river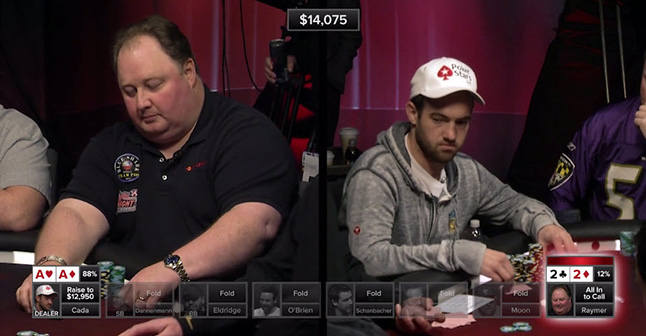 In the first episode from Pittsburgh, we're joined by a whole new crew of players. With WSOP champions and traditional cash game grinders mixing it up, we get treated to some fun hands.
Greg Raymer won the WSOP Main Event back in 2004, but his play shows that he hasn't missed a beat since then. He shows the table how it's done with some pre-flop betting on a pair of jacks (J ♣ J ♦). WSOP winner Joe Cada raises to $350 with Q ♦ 9 ♦ and WSOP runner-up Steve Dannenmann joins the hand with a pair of sixes (6 ♣ 6 ♠). Larry Ormson calls with 2 ♣ 2 ♦ and WSOP runner-up Darvin Moon also calls with K ♣ J ♠.
So far there are five players in the pre-flop action with $1,525 in the pot. It's Raymer's call and he has a slight advantage over the field and he tries to exploit it. "I'm going to be the first all-in," he says, pushing his chips in. Cada reluctantly folds, Dannenmann looks long and hard at Raymer before he slides his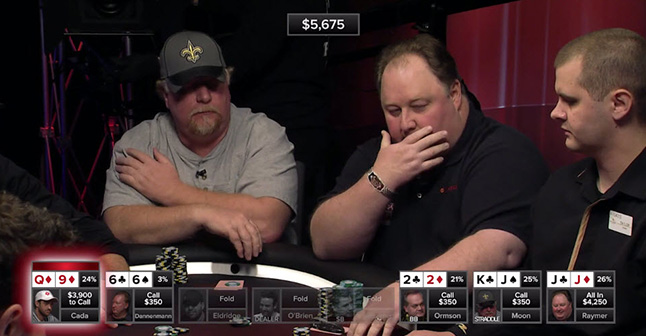 cards to the dealer. Larry Ormson takes longer to decide than Dannenmann, but still comes to the same decision and folds . Moon is the last one who could give Raymer a run for his money, but he quietly folds.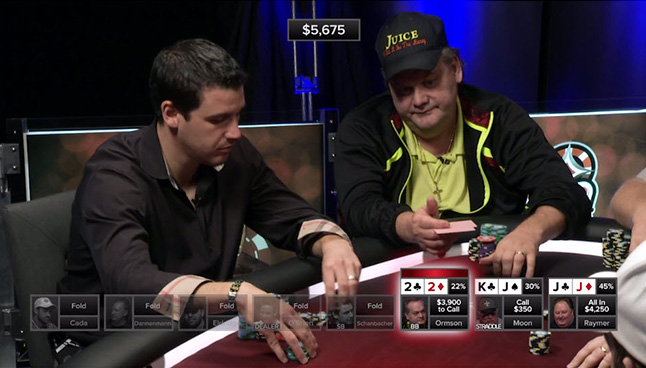 The table wants to know what Raymer has. "Tens, queens?" Ormson asks.
"Those are all reasonable guesses," Raymer responds, giving nothing away after pulling down the win.