Poker Hands From Episode 17 - O' Captain, Table Captain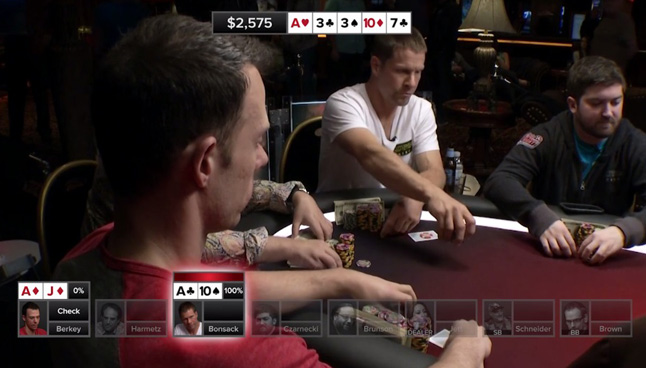 Poker at its core is a social game. You don't play against the house, or against yourself, but against the people sitting at the table. As in any group setting there tends to emerge a natural leader at every poker table as well, known as the table captain.
The table captain is an unofficial title, and sometimes there is no table captain. Poker tables don't differ from any other group with leaders and followers. The roles of a table captain are basic: to make sure the game flows along at a good pace. Most times a table doesn't need a table captain, the game simple flows.
However, not everyone loves have a table captain. At times the captain is simply the person with the most chips who takes the lead or someone who is trying to show off, and both cases players may feel intimidated by captain.
Yet a table without a captain can be just as distracting.
We get a glimpse into this during the second hand of the episode when Matt Berkey and Mark Bonsack go head to head. Berkey held A ♦ J ♦ to Bonsack's A ♣ 10 ♠ and the flop of A ♥ 3 ♣ 3 ♠ gives both players two pair. The turn of 10 ♦ gave Bosnack the advantage who raises Berkey's $400 to $1,000, who calls. The river is 7 ♣ which seals the victory for Bonsack, who bets $1,300. Berkey then takes a long time to decide what to do.
After about 30 seconds of no action, no table talk, Dan Harmetz breaks and moans, "We gotta speed the game up. It's only money, it's only money ." While Berkey tries to shrug it off, he almost immediately calls the bet and loses the hand.
And while Berkey may have been smarting at the comment, Bonsack (and perhaps the rest of the table) thanks Harmetz, "You're a good table captain, sir, I like you."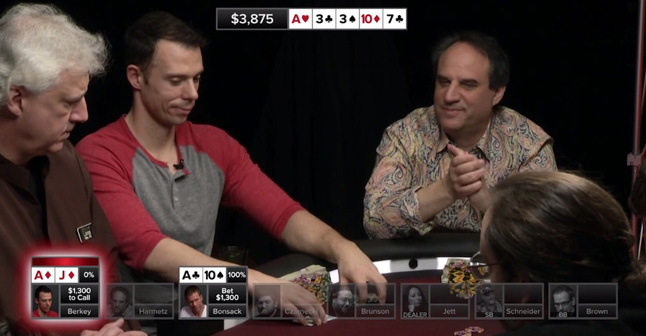 Harmetz moves the table along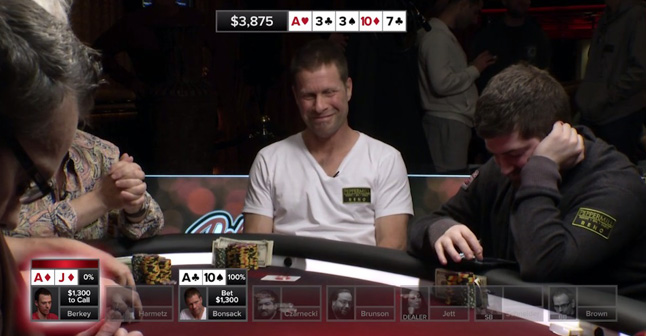 A grateful Mark Bonsack thanks Harmetz