Poker hands from Episode 25 - Poker on ice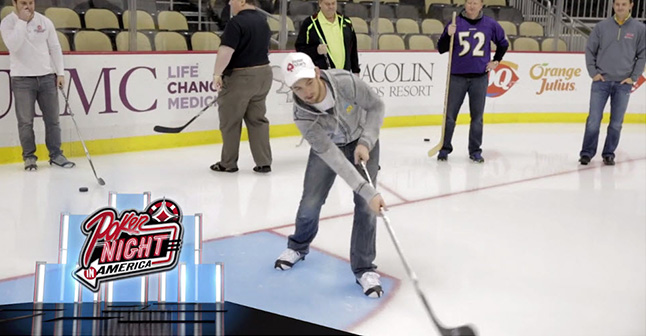 In a hockey-themed episode, there are some hard hitting hands that the makes some players to feel like they've fallen flat on the ice.
The first hand that is played is a heartbreaker for Nick DiVella (see the episode 25 recap), there are plenty of other hands that make players feel like they're on thin ice.
Nick DiVella does get some revenge later in the show when he goes head to head with Jack Schanbacher. DiVella has 10 ♦ 8 ♦ and raises to $150 and Schanbacher calls with a pair of nines 9 ♥ 9 ♦ . The flop of 8 ♣ 5 ♣ 2 ♥ gives Schanbacher the lead but DiVella does pair his 8. Both players check to see the turn, which is a 7 ♥ and Schanbacher bets $300 and DiVella calls. The river is a 10 ♠ which gives DiVella two pair and the best hand. Schanbacher bets $650 and DiVella takes the initiative and raises to $2,050. After a taking about 30 seconds to think it over, he calls and DiVella is the one who wins the $5,000 pot.
Cada goes cold
After watching the players show off their hockey skills, we get back to the table with a hand that pits Larry Ormson against 2009 WSOP Main Event Winner Joe Cada. Another WSOP winner, Greg Raymer starts the action by calling the big blind with pocket jacks J ♠ J ♥ . Cada calls with A ♠ 2 ♠ and Dan O'Brien enters the fun with 7 ♣ 7 ♦ . Jack Schanbacher raises to $350 with K ♠ Q ♥ and Larry Ormson calls with A ♣ Q ♦ . Ormson's best brings a round of a calling and five players pay to see the flop.
The flop is 8 ♠ Q ♠ 2 ♦ which gives Ormson a pair of queens but Cada is only one out away from a flush draw. The group checks through to Schanbacher who bets $775. Ormson raises to $2,200 and Raymer folds his pocket jacks. Cada re-raises to $5,300 which pushes O'Brien out of the hand. Ormson looks at his chips and says, "I ain't got no choice, all in."
Ormson goes to the turn with the better chances, but Cada just needs one spade to win it. The turn is a 5 ♦ and the river is a 9 ♣ giving Ormson the cool $12,375 pot and putting Cada on ice .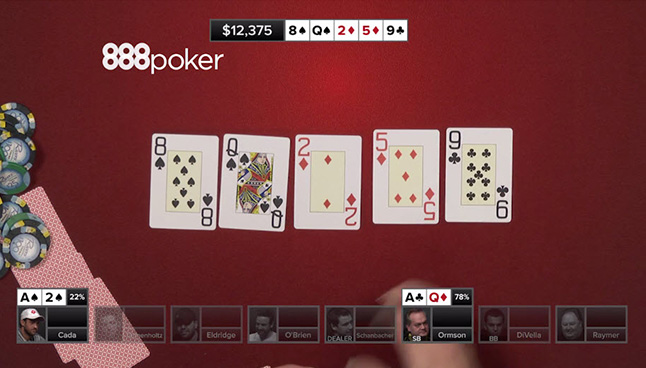 The 9 ♣ puts Cada on ice.