Poker Hands From Episode 18 - The Costly Ace King Combo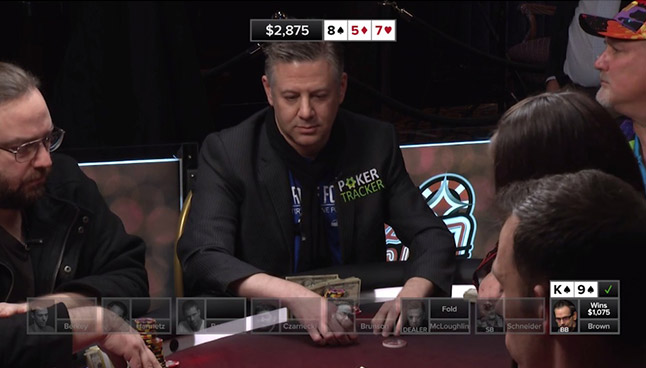 Everyone playing poker knows that having strong hole cards doesn't guarantee you a win. Sometimes it's the board that will negate strong hole cards, other times it's the play of the other players. In an episode dedicated to the great Chad Brown , we take a look at how Brown takes down a pot without having the nuts.
As the action picks up, a hearty discussion around the show Battlestar Galactica is happening, but that doesn't distract Mark Bonsack, who bets $150 with Q ♠ 10 ♠ . Steven McLoughlin joins in with A ♦ K ♦ and raises to $350. Chad Brown is the final one to enter with K ♠ 9 ♠ and raises to $900. Brown's raise knocks Bonsack out of the hand, but McLaughlin calls.
So its heads up between Brown and McLoughlin. The flop is 8 ♠ 5 ♦ 7♥ which gives McLoughlin the big advantage. But as Brown is the first to act and has the deeper pockets, he bets $900. That bet, makes McLoughlin think for a moment before he folds.
While Chad Brown respectfully rakes in the pot's chips and cash, host Chris Hanson sums up the hand, saying, "Put another one in the record books for suited Ace King doing absolutely but costing you more money."
Chad Brown makes his move.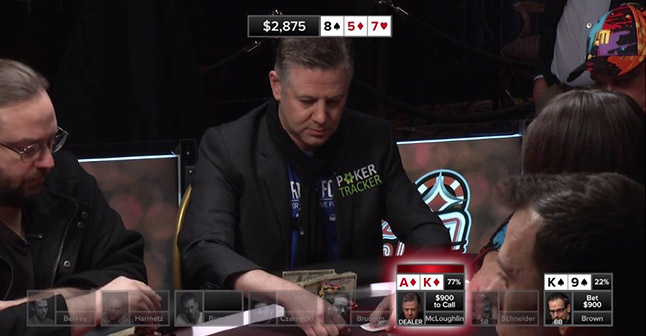 Decision time for Steve McLoughlin.