Poker hands from Episode 29 - The David Williams Show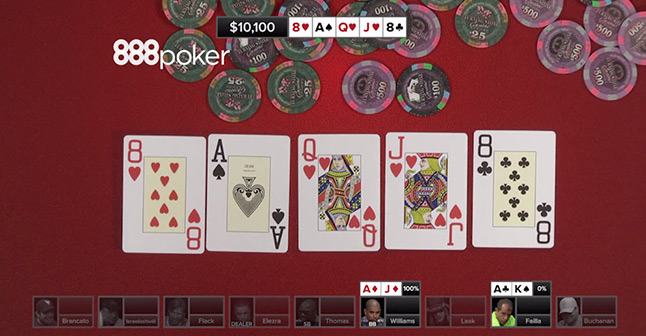 In the finale for the first season of Poker Night in America, we get treated to tons of poker, but the star of the season finale is David Williams. It's been over ten years since he was the 2004 World Series of Poker Main Event runner up, but on this episode he proves that he is still one of the top players in the game today.
In his run of four wins in the finale, two hands really stand out. The first involves Williams being the first in the pot with a pair of fours 4 ♦ 4 ♥ and raising to $300. Shawn Buchanan is the only other player who joins in with A ♣ 10 ♥ . The flop is Q ♥ 8 ♣ 8 ♠ and Williams checks, but Buchanan raises to $850. Williams calls and the turn comes is J ♥ , giving Buchanan a possible straight. But both players let the turn pass quietly and check. The river is a 9 ♥ , giving Buchanan the best hand. Williams checks and Buchanan bets $1,500. Williams takes a moment and then raises to $4,500. Buchanan knows that his straight is good, but there are other hands that could beat him, like a flush. He reluctantly folds and as David Williams flips over the 4 ♥ , letting Buchanan think he did have the flush (to which Host Chris Hanson says Williams, "still not letting Bucky [Buchanan] off the ledge, which isn't very nice.").
It's pretty impressive to get a player like Shawn Buchanan to fold a straight, but two hands later he competes in one of the largest pots all season. The hand starts innocently enough with Will Failla raising to $150 with A ♣ K ♠ but he's not the only one in at the start of the hand. Shawn Buchanan is in with 3 ♣ 3 ♥ , Roland Israelashvili is in with Q ♦ 10 ♦ ,Layne Flack is in with A ♥ 4 ♣ , Travell Thomas joins with Q ♠ 10 ♥ and finally David Williams joins in with A ♦ J ♦ .
But Williams doesn't just limp in, he raises to $1,150. Chris Hanson says of the bet, "David Williams going to see who really got something, or who is just pretending." Will Failla is the only one who calls and the pre-flop pot is at $2,900.
The flop is 8 ♥ A ♠ Q ♥ and Williams is the first to act, betting $1,625. Failla raises to $3,600, which Williams calls , making the pot just over $10,000. The turn is a J ♥ , giving the edge to Williams. Both check the turn and the river is an 8 ♣ , locking up the hand for Williams. Williams bets $4,000 and Failla immediately calls. Williams turns over his cards and Failla nearly tears up his cards as he realizes he lost the "biggest pot of the night" which topped $18,000.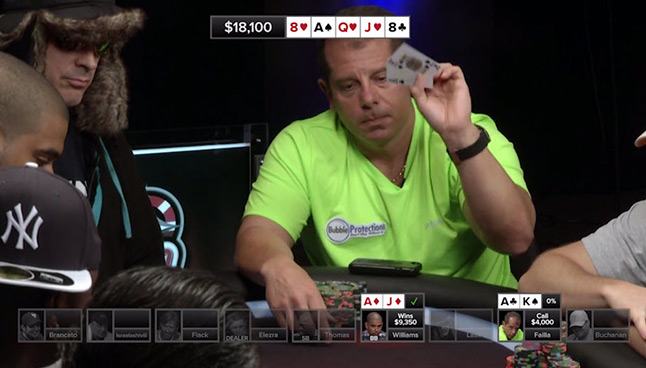 Will Failla realizes his AK lost to AJ