Poker Hands From Episode 5 – a Comeback and an Extraordinary Raise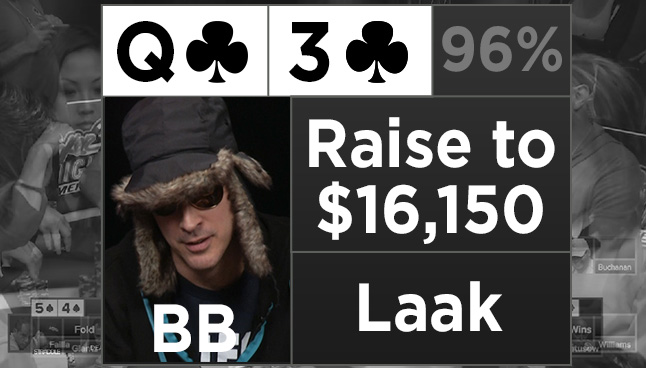 The Poker Night in America table gets a little crowded in episode 5 as a brand new set of players take their seats. We welcome Will Failla, David Baker, Eli Elezra, Phil Laak, Lauren Billings, Layne Flack, David Williams and Shawn Buchanan to the table. Mueller is still in the game and Deeb and Matusow cheer everyone on from behind the table.
Matusow's Comeback
Guess it's true what they say about the sunlight elevating your mood. After enjoying some time outdoors playing golf, the Poker Night in America crew come back to the felt looking refreshed. Even Matusow's bite seems to have returned. A hand kicks off and Mueller ♣ J ♦ 7 raises to $300. Matusow ♦ 9 ♦ 6 calls and so does Glantz ♠ 5 ♠ 4. The Flop is ♣ K ♦ 8 ♠ Q and Matusow bets $700. Glantz folds, Mueller folds and Matusow takes the $1,625 pot just like that. He's back in the groove…
Laak Attack
We're in the second hand with our new players and Elezra ♦ 7 ♥ 6 raises to $350. Laak ♣ Q ♣ 3 calls and Mueller ♠ 8 ♣ 7 calls too. The Flop is ♠ Q ♣ A ♣ 5 and Elezra raises again to $925.After a short ponder, Laak makes a very particular bet and decides to raise $16,150, feeling confident with his Flush Draw and Pair of Queens. Both Mueller and Elezra fold and Laak takes an $18,125 pot.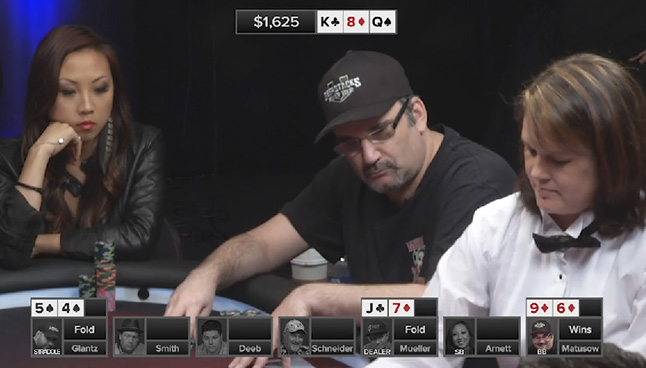 Matusow is back!!!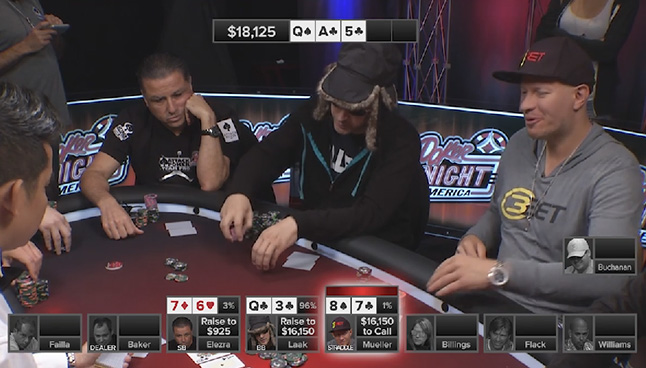 Laak bets a big $16,150