Poker Hands From Episode 12 – Who's a Nit?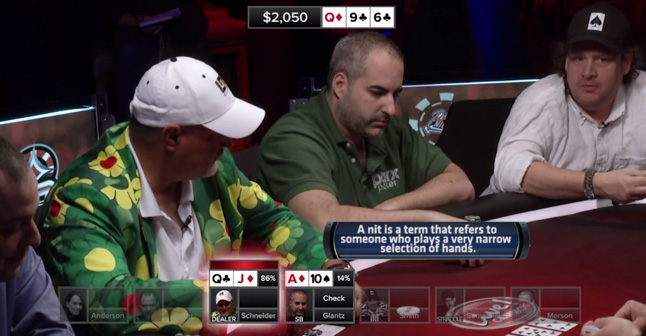 In episode 12, a whole debate starts about who are the "nitty" players at the table. A nit is a tight-passive player that plays a very narrow selection of hands. By definition, they don't really like confrontation and their moves are usually quite predictable. It may sound like a bad thing but being a nit is not so terrible as long as it is balanced correctly. Many top poker players have nitty tendencies and not only are they profitable; they also impose fear on many of their opponents.
David Baker declares that there are 2 nits sitting at the Poker Night in America table. Gavin Smith openly admits that he is one of them and points the finger a Jason Somerville as the second one. Somerville is surprised and says that this is the first time he has ever been accused of nitty play. What do you think? Do any of our poker pros display nitty player qualities? Check out the recap of these exciting hands that go down in episode 12 and decide for yourself…
Donkey Bomber Drops Some Bombs
Matt Glantz is dealt ♣ 6 ♣ 4 and he raises to $150. Schneider ♠ K ♥ K raises to $500 and Glantz calls. The Flop comes out ♣ 9 ♥3 ♣ 3 and Schneider makes a bet that's even bigger than the pot with $1,200. It's pretty obvious that he wants to take this one down fast. Glantz calls with his Flush draw and the Turn is in with ♥ Q. The Donkey Bomber drops yet another big bomb with a $5,000 bet! Glanz folds and that's the end of that.
Gavin Smith Brings Home the Bacon
This hand plays out between Smith ♠ Q ♥ 8, Drubetskoy ♥ K ♥ 6 and Somerville ♦ J ♥ 10. Smith finally gets his bacon patterned jacket back from Anderson and he's ready to win. Smith raises to $150 and the others call. The Flop is ♠ J ♣ 6 ♣ 8 and Drubetskoy checks. Smith bets $425 with his 8-Pair and Somerville calls with his 6-Pair. Drubetskoy decides he wants out and folds. Smith bets another $750, which pushes out Somerville, making Smith the winner before the Turn.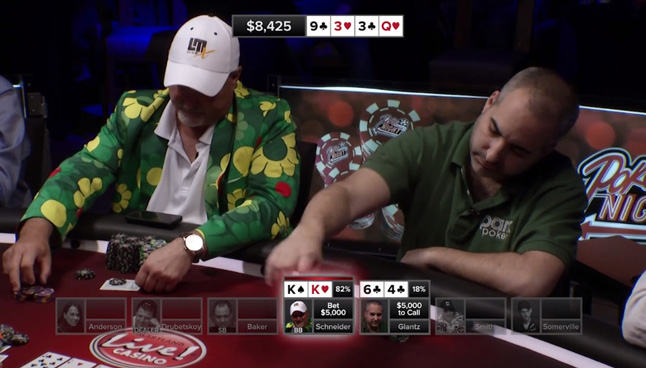 Donkey Drops a $5,000 bomb bet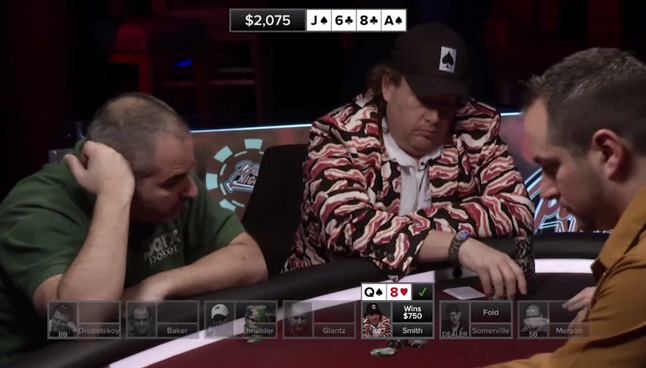 Smith is better with bacon!