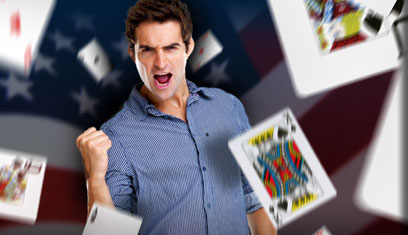 Play online poker in
New Jersey!
USA Online Poker - The Real Money Experience
888poker is blazing a trail with players in New Jersey who play online poker for real money. Enjoy exciting games, fun-filled features, and massive poker pots!
Remember those famous words, 'I'll be back'. Well, it's true! Online poker is back in New Jersey, and it's bigger than ever. The Garden State made good on its promise to fully regulate online poker for fans. 
Now it is 100% legal to play and enjoy real money poker games from the comforts of home, or on the go anywhere in New Jersey. It didn't take long before Delaware and Nevada followed suit. Now, anyone of legal age living in New Jersey, or simply visiting is welcome to play real money online poker games, and compete for massive pots.
You've just got to ask yourself one question: Do you feel lucky, well do you?
USA poker players have been shut out of the action for too long. But now, the world's most active poker playing nation is back in the saddle, and there's no holding back. 
Get ready to enjoy No Limit Texas Hold'em, Seven Card Stud, Omaha Hi-Lo, SNAP Poker, and Blast Poker contests right here in your home state. And that's just scratching the surface of it. 
888poker is locked and loaded with some of the hottest poker online games, tournaments, Freerolls, cash games, SNGs and MTTs. It's a party, and you're all invited!
USA poker players have been excluded from the world's favorite strategy-based card game, but no more. Now, thanks to 888poker you can cash in on the action 24/7. 
Sophisticated technology, including geolocation tracking and age verification ensures that legal age players in New Jersey can play real money poker instantly. Federal law left it up to the states to make their own decision, and New Jersey has decided: online poker is here to stay. With that said, it's time to roll out a red carpet of glorious poker games, contests, and promotional offers for dedicated fans.
Safe as Houses
888poker is the safe way to play online poker for real money. New Jersey players are keen to cash in on the action with a wide range of poker online games at all levels of buy ins. Whether you're a whale looking to catch some fish, or a fish looking to become a whale – you've come to the right place. 
Cutting-edge software and the coolest poker features make ours the #1 online poker room. Check out our PokerCam tables, SNAP poker games and fantastic BLAST poker contests. 
We're all systems go, thanks to full licensing and regulation by the New Jersey Division of Gaming Enforcement (DGE). We're on the up and up, so all you need to worry about is having fun.
When you're looking for fully immersive entertainment, look no further than 888poker. We'll set you up with a fat stack at the best tables. Whether you're looking for Texas Holdem, Omaha Hi, or Seven Card Stud, we've got the games. 
Deposits and withdrawals are easy and secure, and we provide you with a comprehensive poker school to help you fine-tune your game while you're learning the ropes. Don't waste your time with the rest, stick with the best here at 888poker. 
Our in-house poker experts, and New Jersey poker ambassadors are the real deal. You've seen 888poker everywhere, we sponsor the World Series of Poker (WSOP) in Las Vegas, Nevada.
FYI: 888poker won the prestigious EGR Award in 2015 for Best Online Poker Operator in North America
Claim Your $20 Free Upon Registration
Get this: register with us as a new player, and we'll gift you $20 free upon registration. We're celebrating online poker's return to the United States. Remember, anyone visiting the state of New Jersey is welcome to this generous poker bonus. Simply download the poker software to cash in on the action, and win a fistful of dollars!
Online poker is back with a bang, and we've got the law on our side. We invite you to enjoy with us and fellow New Jersey online poker players.

Have a question? Click here to view our support center!