A variety of poker games, a variety of Tournaments
888poker is home to an exciting selection of online poker games for US players. Register to join a large network of online poker fans in New Jersey. Go head-to-head against fellow players in adrenaline-loaded games of Texas Hold'em, Omaha Hi-Lo, and Seven Card Stud. Our poker tables are full of hustle and bustle, 24/7. Pick a game, grab a seat, and get ready to roll.
At 888poker, you can find the widest selection of poker games. Play according to your limits, at buy-ins you can afford. We cater to low rollers and high rollers – it's your call. The name of the game is fun, and that's what we guarantee at our tables. Test your smarts against other players with pulse-pounding games of Texas Hold'em, Omaha Hi, Omaha Hi-Lo, Seven Card Stud, SNGs, and our exclusive SNAP poker game. Ante up for a good time at our poker tables.
Newbies will benefit from our detailed game info pages, designed to help you play your way to big poker pots. Check out your preferred poker games for more information – we've listed all the rules for you. Plus, we've loaded up on the biggest bonuses and promotions to help you boost your stash in a flash. If you need any help, consult the eMagazine or our Poker Info pages.
Our social poker platform is designed to make it easy for you to share details of your favorite poker games, strategies, and big wins. Look around, browse our latest articles, and cash in with the hottest poker games. Let's clear the decks, and deal you in!
---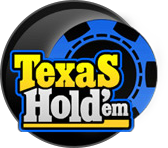 Texas Holdem
Texas Hold'em is the world's favorite poker game. This intriguing poker variant boasts a player base in the millions, and it's growing fast. It is played at the Main Event of prestigious poker tournaments like the WSOP, WPT and ANZPT. You're dealt 2 hole cards, and you have the Flop, Turn and River to form the strongest hand. 888poker's Texas Holdem games are played fast and furious, with big pots and affordable buy-ins. Whether you're playing SNGs or MTTs, Texas Holdem is the name of the game. Use your skill, wit and strategy to beat the competition and win some!
Play Texas Hold'em at 888poker New Jersey
---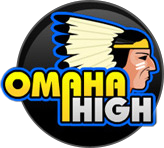 Omaha Hi
Omaha Hi is a competitive poker game where players compete with one another for the high hand. You are tasked with forming the highest-ranking hand in the game. It's similar to Texas Hold'em poker, but hasn't quite hit the same popularity levels. In Omaha Hi, you must form the highest hand with a combination of 4 hole cards, as opposed to 2 hole cards in Texas Hold'em. After the first round of betting, the first 3 cards are dealt – The Flop. This is followed by the Turn and the River. If more than 1 player remains, the showdown takes place. This is where things really get cranked up!
Play Omaha Hi at 888poker New Jersey
---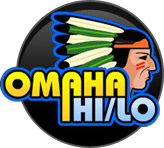 Omaha Hi/Lo
Omaha Hi-Lo is like Omaha Hi, except for a key difference: When the hand enters the showdown stage, the players holding the best high hand and the best low hand will each split the pot 50/50. In Omaha Hi-Lo, you receive 4 cards face down. It is possible for the same player to win both the high hand and the low hand, by making 2 separate hands from the community cards, and the pocket cards. The rules determine who forms the best low hand (8 or lower), and who forms the best high hand. Hit the wheel (5, 4, 3, 2, Ace), and you're already a winner!
Play Omaha Hi/Lo at 888poker New Jersey
---
Seven Card Stud
Before Texas Holdem became a global sensation, Seven Card Stud ruled the roost. Considered by many as a traditional poker game, it was a hot favorite in the US. The rules are a little more complex than other poker games, and it requires discipline, strategy and sound bankroll management. 888poker offers many exciting Seven Card Stud games. Remember, there are no community cards in this game, no blinds, and 5 rounds of betting, as opposed to 4 in other poker variants. We offer plenty of Seven Card Stud games at affordable buy-ins. This game can be enjoyed in many formats, with pre-flop antes, and bring-in bets.
Play Seven Card Stud at 888poker New Jersey
---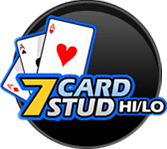 Seven Card Stud Hi/Lo
Seven Card Stud Hi/Lo is the split version of Seven Card Stud. This is a tough game to master. The best high and low poker hands will split the pot at the showdown. In this variant, players are dealt 7 cards during the hand, with only the best 5-card hand determining the winner. The low hand plays with 8 or better qualifiers. Low hand rankings are always presented from the highest card to the lowest card. To get started, players must make a nominal wager known as an Ante bet. Players are dealt 3 cards up front, 1 up and 2 down, followed by Fourth Street, Fifth Street, Sixth Street, and Seventh Street. If more than 1 player remains after the betting rounds, it's time for the showdown!
Play Seven Card Stud Hi/Lo at 888poker New Jersey
---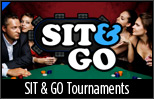 Blast Sit & Go (SNG)
Sit & Go's, otherwise known as SNGs, are terrific formats of poker games for players on the move. These poker tournaments feature a set number of players and they only begin once that number has been reached. You can expect anywhere from 2-360 players per SNG at 888poker. Typically, you will be playing at either 6-max or 9-max tables. There is no late registration, and you play through various formats such as Super Turbo, Turbo, Bounty, Double or Nothings or Knockout tournaments. Games typically conclude within 30 to 60 minutes, and they are easy to play. If you're looking to gain an understanding of tournament-style poker, this is the format for you!