Poker hands from Episode 26 - Legend in the making?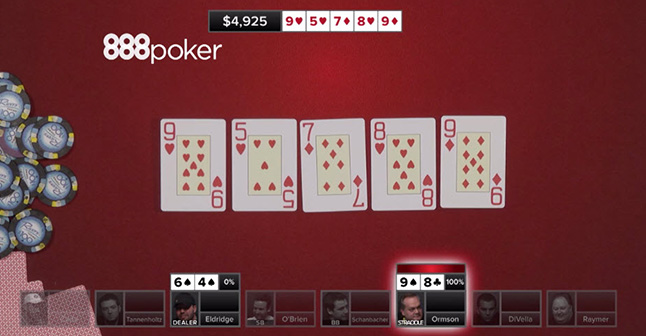 In an episode full of legends, Larry Ormson has a night that go down in the Poker Night in America annals of history as legendary.
Ormson won the biggest pot of the night, then lost an even bigger pot, bluffed his way to a win against WSOP champion Joe Cada, and then finished the night by losing to local player Dave Tannenholtz. It was an exciting ride to watch and was easily some of the most entertaining poker of the season.
Ormson's first hand is a doozy. The action starts on Nick DiVella who raises to $300 with a pair of 10s (10 ♠ 10 ♣ ), Dave Tannenholtz calls with A ♦ 5 ♦ as does David Eldridge with 6 ♠ 4 ♠ . Jack Schanbacher calls with A ♣ 9 ♣ and finally Larry Ormson calls with 9 ♠ 8 ♣ . So pre-flop there is over $1,500 in the pot and five players who have paid to see the cards.
The much anticipated flop is 9 ♥ 5 ♥ 7 ♦ and odds are still with Nick DiVella's pair of 10s. But Ormson's bet of $900 knocks him out (Chris Hanson explains "there are plenty of draws out there"). Tannenholtz also folds, but Eldridge calls, and after a moment's thought, Schanbacher also folds.
The turn card is an 8 ♥ and gives Eldridge the straight, and the favored odds to win. Yet it also gives Ormson two pair and he bets $800, which Eldridge calls. The river is a 9 ♦ , which gives Ormson the full house. Ormson, sensing that he has the nuts, bets $2,600 and Eldridge doesn't hesitate to call.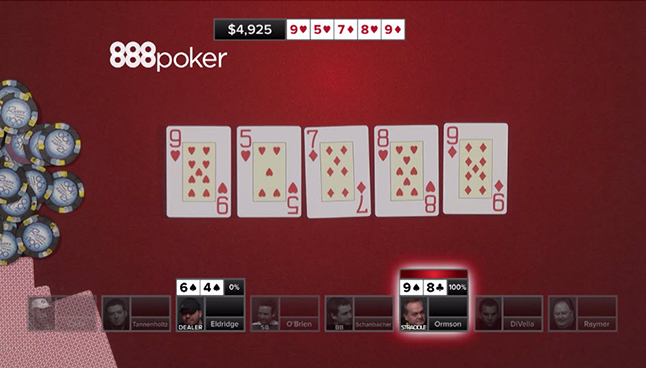 Ormson hits it on the river
All in all, Ormson took down the biggest pot of the night, over $10,000. Not bad for a future legend.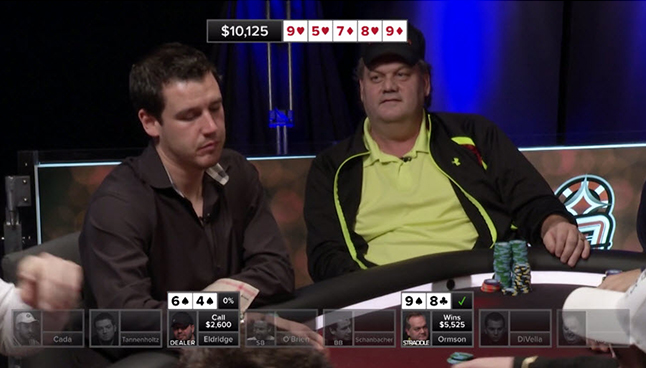 Larry Ormson soaks it in