Poker hands from Episode 28 - A timely check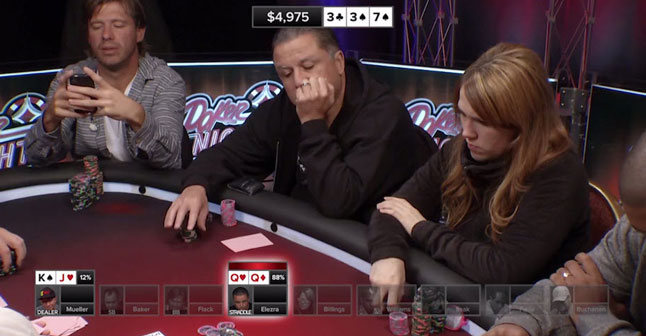 In any hand of poker, there are a number of different plays that players can make that will influence the outcome. With the pros of Poker Night in America, we're used to seeing aggressive betting when someone has the nuts. But as Eli Elezra demonstrates in the first hand of the episode, sometimes it's a small move that can bring down the pot.
The hand starts off with Elezra putting up the $100 straddle and Phil Laak joining the hand with A ♣ 9 ♣. Greg Mueller raises to $400 with K ♠ J ♥ and then the action is back on Elezra, who re-raises to $2,400 with a pair of queens (Q ♥ Q ♦). Laak makes a show of kissing his cards goodbye as he folds, while Mueller decides the hand is worth the go and calls.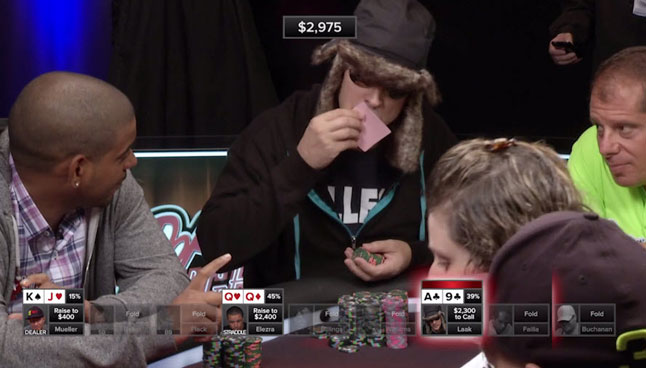 Phil Laak kisses his cards goodbye
The flop is 3 ♣ 3 ♠ 7 ♠ which gives Elezra an 88% chance of winning, and he knows this too. Instead of betting and trying to win the pot straight away, he checks. The check dekes Mueller, who then thinks that Elezra missed the flop, just like he did. The check also gives Elezra an out, if Mueller bets, then Elezra knows that Mueller might have the nuts and can fold. The turn is a J ♣ which gives Mueller top pair, but the action is on Elezra. For Elezra, this couldn't have been a better card for him. It lets Mueller think he could win but Elezra suspects differently. He bets $2,350 and Mueller calls. The river is a 10 ♠ and Elezra senses he has the win and bets $3,500. And after thinking for a moment, Mueller calls.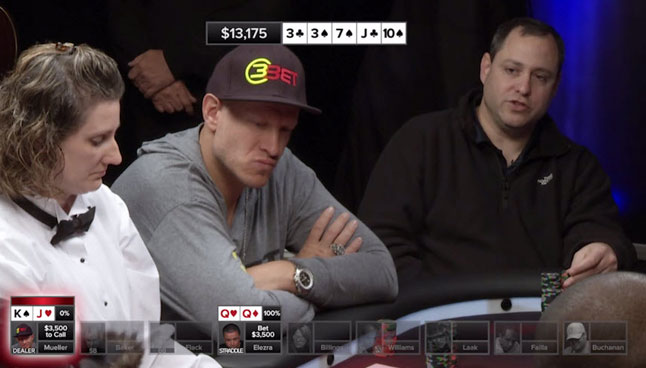 Mueller thinks whether to call or not
Elezra wins the $16,675 pot and Mueller acknowledges that the check on the flop was what baited him into playing the hand. It was a little move that led to a big payday for Elezra.