Poker Hands from Episode 13 – Baker and Glantz Shine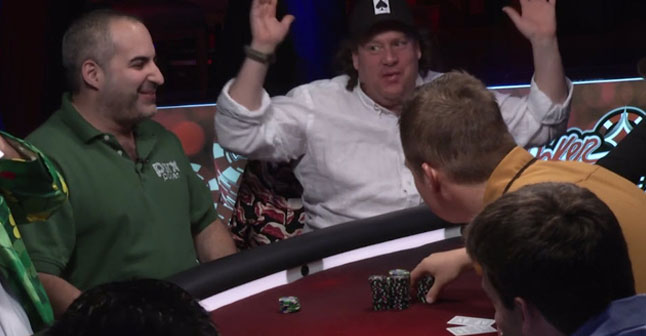 Poker Night in America Episode 13 proved unlucky for some, but not for all! Play began with some small pots up for grabs, but soon the pots grew to pretty sizeable proportions. The early part of the contest was dominated by Matt Glantz, but the evening closed out with David Baker recording a monstrous win!
Matt Glantz Fights Back and Wins
Playing off a short stack, Matt Glantz was under pressure to rack up victories during the evening. As soon as the pocket cards were dealt, this is how it unfolded: Drubetskoy J ♣ 10 ♠, Schneider A ♥ K ♠, Glantz J ♠ 10 ♥ and Somerville 7 ♥ 6 ♣. Gene Drubetskoy folded, leaving the remaining 3 players seeing the Flop - 3 ♠ 8 ♠ and Q ♠. Somerville folded, with Schneider and Glantz going head to head. At this point Schneider had a 73% chance of winning compared to Glantz's 27% chance of taking down the pot. But you can never discount the likelihood that Lady Luck will come and grace your hand. The Turn card was 10 ♦, followed by the River, a 2 ♣. The Flop, Turn and River left Glantz beaming from ear to ear. His straight bested Schneider's A/K combination and rewarded him with a $2,900 pot.
Scott Baker Cutting Opponents Down to Size
Gene Drubetskoy had a mixed evening. He had a fat stack going in, but soon lost his way against one of the better poker sharks at the table; David Baker. Drubetskoy received his Q ♥ 7 ♥ and Baker was holding an A ♠ A ♣. Scott Baumstein – the new guy at the table in the BB position raised to $1,000 with his A ♥ K ♥. Drubetskoy folded, leaving Baker and Baumstein in the ring. The pot quickly swelled to $12,075. The Flop, Turn and River were revealed: 4 ♣ K ♦ 5 ♥ 2 ♦ 10 ♠. Baker claimed it all, winning $6,075. But the really big contest was coming up between Baker and Drubetskoy later on in the evening…
The Baker vs Drubetskoy Showdown
Towards the end of the evening a monster pot was ready to be won. Baumstein was holding 6 ♥ 3 ♥, Drubetskoy was holding K ♠ K ♣ and Baker had an A ♠ A ♣. With $575 to call, Baumstein folded. Drubetskoy raised to $1,800 and Baker decided to call. He wanted to play it slower to get Gene to commit more chips on the Flop 9 ♦ 4 ♠ 8 ♦. The bet was $2,100. Baker raised to $6,600 and Gene went all in. It was a Q ♣ on the Turn and 6 ♦ on the River. Baker cleaned up with a pair of pocket rockets for $17,000 and a win of $8,600.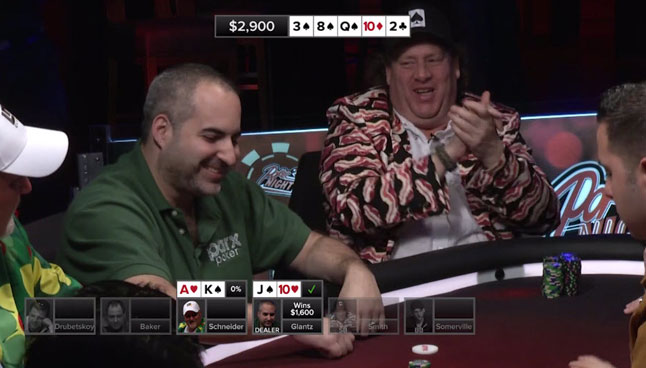 Smith celebrates after Glantz bests Schneider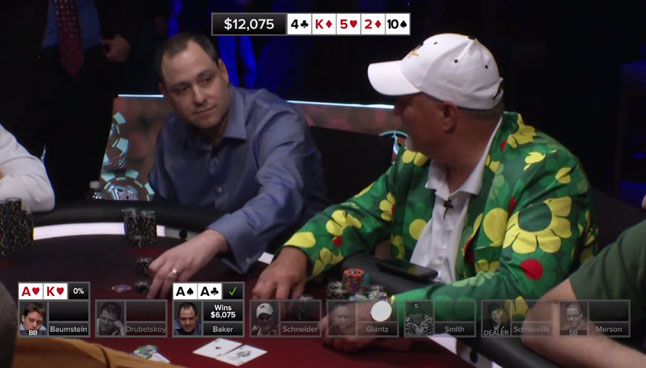 Baker is always cool, calm and collected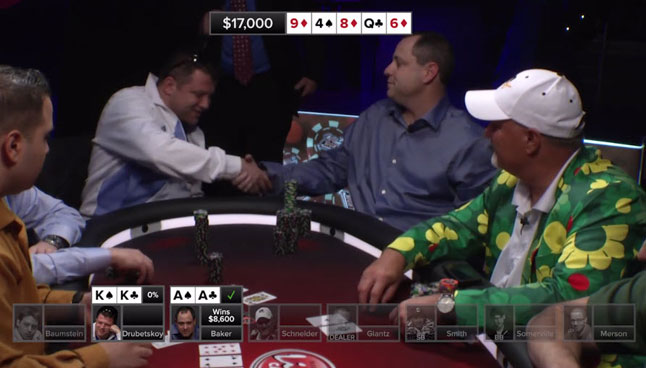 Drubetskoy congratulates Baker after epic showdown