Poker Hands From Episode 8 - Mueller vs. Unabomber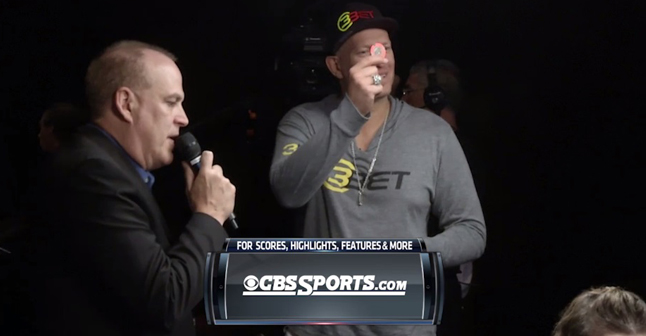 Greg Mueller was in the spotlight for episode 8 of Poker Night in America, so it's only natural to take a closer look at the final hand of the episode.
In an episode where Mueller played a lot of questionable hands and losing (and playing a few good hands and losing), Mueller sat down at a new table trying to end on a positive note. Before he sat down, he told the camera crew his plan to "hit & run" the table, meaning win and leave. Mueller sat down with the second group of cash game players, different from the ones he played with the day before.
After a little banter and some pre-flop betting, three players get to see the flop. Phil "Unabomber" Laak 9 ♠ 7 ♠ , Dane Flack J ♦ 10 ♥ , and Greg Mueller with 6 ♠ 2 ♣ are the three who make it to the flop.
The flop of 7 ♥ 4 ♥ 5 ♠ gives Unabomber a pair and Mueller bets $2k, which caused Flack to fold. Unabomber (who as host Chris Hanson pointed out was wearing "a bomber hat, not hoodie") called and only two players would see the turn.
The turn is an A ♣ which only helped Unabomber's chances, but Mueller was committed and after thinking for a few seconds went all in, which brought the pot to $16,075. Unabomber waits a moment before he slid his cards to the dealer, folding. The win was a happy ending for the star of the episode: Greg Mueller. Unabomber wanted to see what the river would have been, but Mueller, not wanting to tempt fate, argued against it and the dealer quickly mucked the cards. Mueller wasted no time in gathering up his chips and excused himself from the table.
Though he didn't leave the room guessing: while he was potentially down $15k but left up $1,000 from the cash game.
Greg Mueller worries that 6 ♠ 2 ♣ might not be strong enough.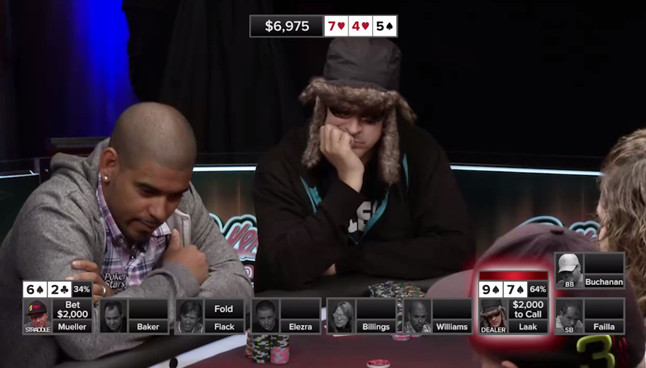 Phil "Unabomber" Laak considers his play.