Poker Scientists

Some hands change on the river, some hands on the turn, while others often have very little to do with the cards and all about the chips.
In the third hand of episode 2, WSOP 2009 runner-up Darvin Wood stops by for a visit and the as the action opens with Mueller raising to $300 on 9 ♠ 10 ♣, and Matt Glantz calls with a 2 ♥ 5 ♥. Gavin Smith in the small blind 3 bets to $1375 with a Q ♠ K ♠ and while Mike Dentale decides his move, Mueller folded out of turn. Dentale folds leaving Glantz to call, which he does.
The flop is 5 ♣ 9 ♥ 6 ♥ giving Glantz a pair of fives. Gavin Smith then best $1850 and Glantz raises to $5600, putting the pot over $10k and forcing Smith to fold.
As show host Chris Hanson points out, "This hand really got to Gavin Smith." In the post-hand interview Smith hints that it Glantz was played against Smith's stack and not the cards. True he had the pair of fives, but his aggressive re-raise made it impossible for Smith to stay in the hand.
Then an interesting thread comes to light: that Glantz played a weak hand because they were on television. Glantz admitted that because he's on TV he's willing to take more risks because they're not in "science class on poker" (although Smith call them both "Poker Scientists"). Smith said that actually plays much tighter and acts like he doesn't because, "these guys don't notice anyways because they call me deuce, five of hearts."
Smith actually went on to write a whole article on the hand and points out that players on the show try to make themselves stand out somehow. And in this case Matt Glantz wasn't trying to be a colorful character, but rather by playing weak hands. While 2 ♥ 5 ♥ is obviously a very weak hand and usually it would be folded, Glantz was trying to stand out by playing it, and it worked out for him this time. Much to the chagrin of Gavin Smith.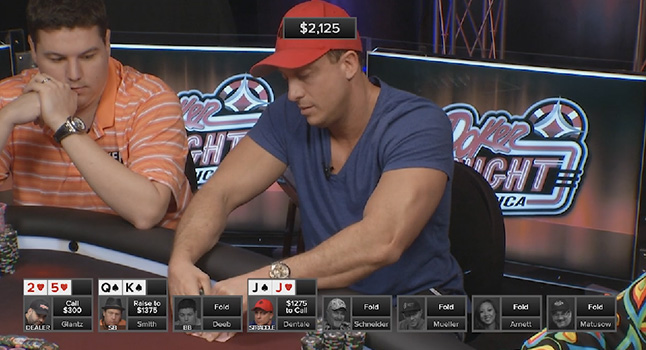 Mike Dentale checks his cards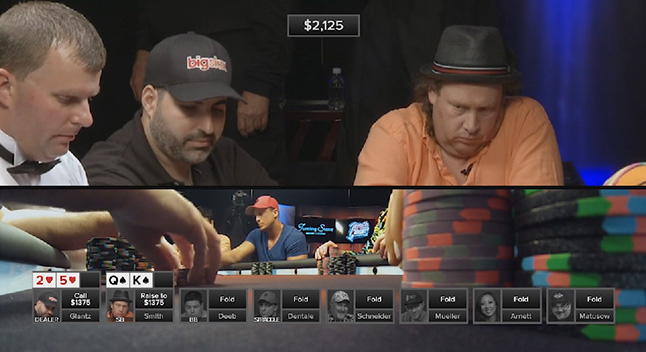 Waiting for the flop
Gavin Smith folds a hand he thinks he should have won.