Poker Hands From Episode 14 – Tom Schneider Takes Back the Power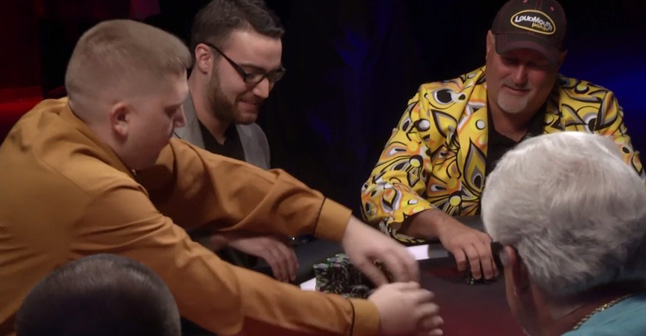 Chad Power may have enjoyed some beginner's luck at the top of episode 14, when took out Tom Schneider and Joe Cashen for a $6,550 pot. But beating Schneider does have its consequences, Power will learn. The 'Donkey Bomber' has been doing consistently well on Poker Night in America at Maryland Live, and that's not about to change.
Donkey Bomber Puts Power in His Place
Chad Power does most definitely bring a lot of poker talent to the table, but he still has a long way to go before he reaches Donkey Bomber caliber. We watch him call with ♠ A ♠ 10 after Smith ♥ K ♦ Q raises the bet to $150. Schneider ♠ K ♠ 6 is the third player still in and he calls. The Flop brings ♥ 3 ♥ 4 ♥ 2 and everyone checks. Next, the Turn comes out ♦ 5, which gives both Power and Schneider a Straight. Power checks and Schneider bets $300. At this point, Smith folds with nothing but a Flush Draw. Power calls, followed by the River ♠ 4. With the bottom half of the Straight, Power decides to check. Schneider's sharp poker instincts must have told him that he has the winning half of the Straight, and so he bets $500. Power calls it, but the pot goes to Schneider this time.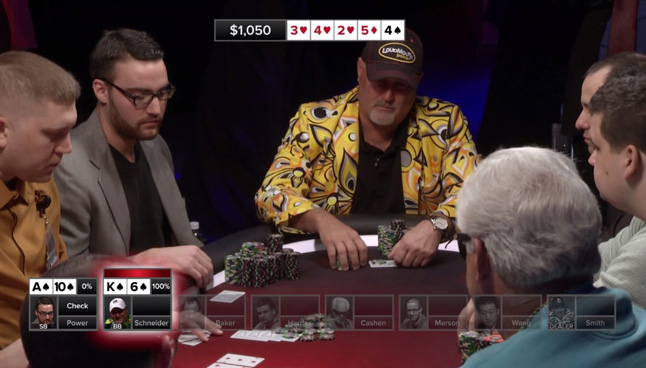 Power has the bottom end of the Straight. Schneider's got the winning Straight.