Poker Night in America - Episode 15 Recap – Merson vs. ODB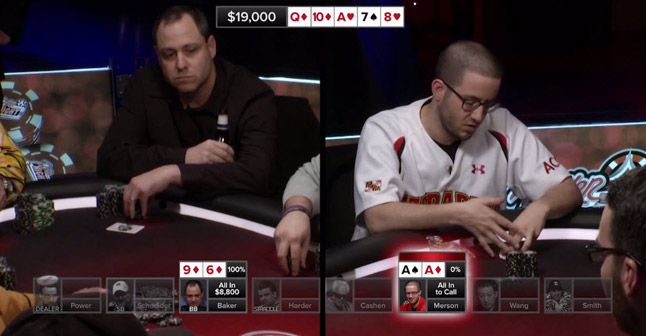 Some of the best rivalries aren't planned, they just happen. And in episode 15 we have the beginnings of a great rivalry between 2012 WSOP Champion Greg Merson and David Baker, one of the greatest players never to win the Big Show.
In this episode we're back in Maryland as the two players go head-to-head on three different hands. But the pendulum swing back and forth between the two in some of the most exciting poker this season.
The first hand between the two actually starts off with three players vying for the action. David Baker has 8 ♠ 6 ♠ , Joe Cashen goes in with K ♣ J ♠ and Greg Merson has Q ♣ J ♣. While Gavin Smith is enthusiastically rooting for Joe ("I'm rooting for Joe too," Cashen says with a smile), Cashen folds after the flop of Q ♠ 7 ♠ 3 ♥. The turn is a 10 ♥ giving Merson the advantage but instead of taking advantage of it, he checks to Baker. Baker then bets $1,750 which causes to Merson to take a long hard look at the table and he decides to fold. Baker shows one card to Merson, the 8 ♠, causing Merson to realize that he folded the better hand.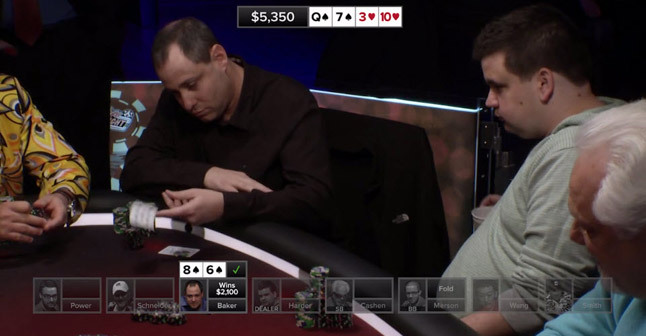 Dr. Baker in the house.
The second hand between the two features five different players who make it to the river before it is just Baker and Merson. Baker has the hand sown up 10 ♣ 10 ♥ to Merson's 10 ♠ 8 ♠ to a board of K ♦ 6 ♦ 9 ♠ 9 ♥ 9 ♦, giving Baker the full house. But Merson with bets $2,100 and as host Chris Hanson comments, "This is just a flat out bluff." Baker is now forced to contemplate what exactly Merson could have and he decides that Merson has "gotta have the best hand." Merson shows one card and it is the 8 ♠. (Remember folks: revenge is a dish best served cold).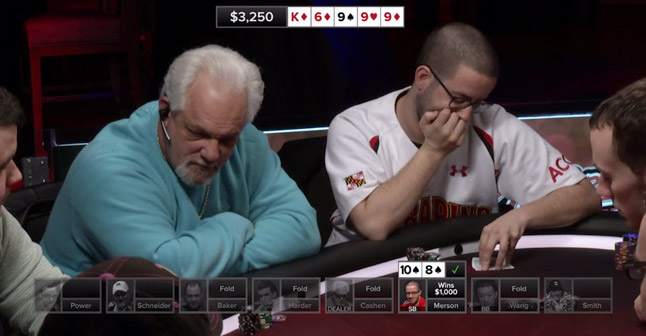 Merson bluffs his way to a win.
The final matchup between the two starts off innocently enough, with Merson holding A ♠ A ♦, Tom Schneider holding 9 ♥ 7 ♥ and David Baker with 9 ♦ 6 ♦. The flop of Q ♦ 10 ♦ A ♥ gives Merson the strong lead and Schneider promptly folds after a Merson bet. The turn is a 7 ♠ and Merson bets and Baker matches brining the pot to $5,400. The river is an 8 ♥ giving Baker the straight to beat Merson's three-of-a-kind. Merson, thinking he has the advantage, bets $4,800, and Baker goes all-in, bring the pot to $19,000. Merson agonizes over the decision and eventually folds.
But Baker gives Merson a piece of mind and flips his cards , showing Merson that he was beat.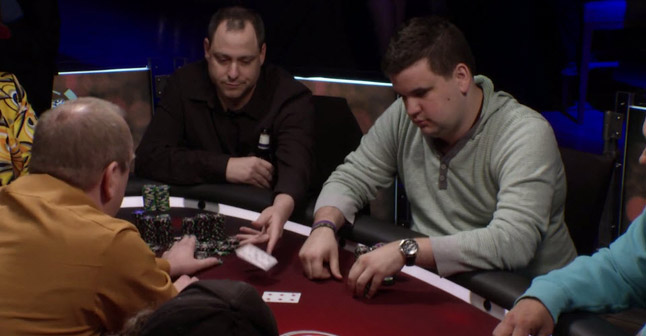 Baker strikes again