Poker Night in America - Episode 23 Recap - Phil Hellmuth's Cucumber Incident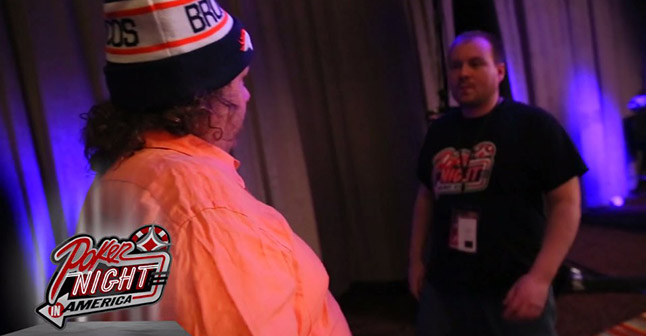 Poker Night in America
|
Season 2
|
Episode 23

- Length - 22:00 | AIRED:
Description: The players make fun of professional poker player Phil Hellmuth by saying that a cucumber can play more hands than he does on Poker Night in America, but he shows everyone that he's a good sport and keeps playing despite repeated losses. Read the recap of episode 23 to see if he eventually wins. |Official Site
Sitting around the table this episode are:
Jennifer Tilly
Greg Mueller
Phil Hellmuth
David Baker
Matt Glanz
Jack Schanbacher
David Eldridge
Matt Russell
Asher Conniff
Jaclynn Moscow joins halfway through episode replacing David Baker
There's a calmer atmosphere around the table in Episode 23 of Poker Night in America compared to the previous episode, when Phil Hellmuth insulted the intelligence of some of the players. Perhaps it's karma, but Hellmuth seems to be down on his luck during the first two hands. After losing the $14,100 pot in the first hand to Jennifer Tilly, he folds in the second hand and loses a $6,375 pot to Pittsburgh native Jack Schanbacher. With $3500 in the middle as the hand goes to the Flop, which is ♠ 5 ♦ Q ♥ 9, Hellmuth bets $600 with his ♠ 7 ♥ 7. Holding ♦ A ♠ Q, Schanbacher raises, leading Hellmuth to believe that he's bluffing, and therefore folds. While Hellmuth gets up from the table to take a break, the players wonder where fellow professional poker player Gavin Smith has disappeared to. We catch up with him drinking at the bar and plotting with a show producer to find and place a cucumber in Hellmuth's seat, as a joke. This is in response to a comment that fellow player Andrew Hanna made in the previous episode, that a cucumber would play more hands and more aggressively than Hellmuth would.
Phil Hellmuth and the Cucumber Incident
There's plenty of laughter around the table as the players jointly plan how to position the cucumber with glasses in Phil Hellmuth's empty spot before he comes back. Hellmuth returns during the third hand of the episode and immediately starts laughing at the cucumber. "Really? You guys shouldn't do this to me after I take those kinds of beatings," he says, referring to his recent and repeated losses. Everyone laughs as he continues, "Wait til I'm up like $40-50,000. They're putting it all in with small pairs and I just show who I am… then you can put the cucumber here. But when they just keep putting it in with these bad hands and beating me, well, no cucumber. It's not fair."
The table all agrees that he's a good sport. Tilly even raises her beer in a toast to Hellmuth, who starts eating the cucumber, despite warnings that it's not washed and that Gavin's hands have been all over it. "Here's to Phil Hellmuth. A good sport!" says Tilly. The players around the table agree.
Jack Schanbacher's Bluffs
After once again losing in the episode's fourth hand to Jack Schanbacher, it's clear that Hellmuth is not having an ideal night and will have to rebuy. The two go head to head again in the sixth hand of the episode, with Hellmuth declaring that he hopes to finally catch Schanbacher bluffing for once. "So far it's been ugly for me," he admits. "How cool would it be if I got all my money back picking off a bluff?" Schanbacher replies, "cool for you, not for me." Putting Phil in better spirits, he actually does win the $10,075 pot, before going on to lose the $10,800 pot to Greg Mueller in the final hand of this episode.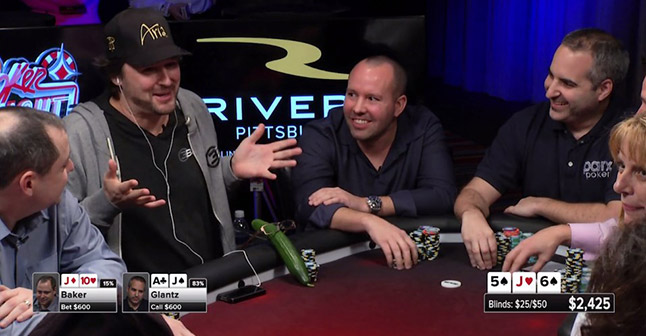 Phil Hellmuth discovering the cucumber in his place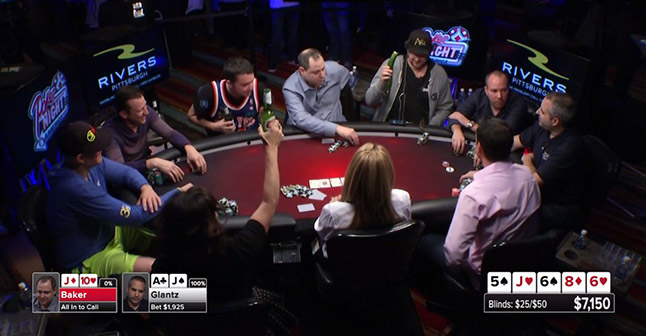 Jennifer Tilly raising her beer and everyone agreeing that Phil Hellmuth is a good sport