Poker Night in America – Episode 20 Recap
Rivers Property Pittsburgh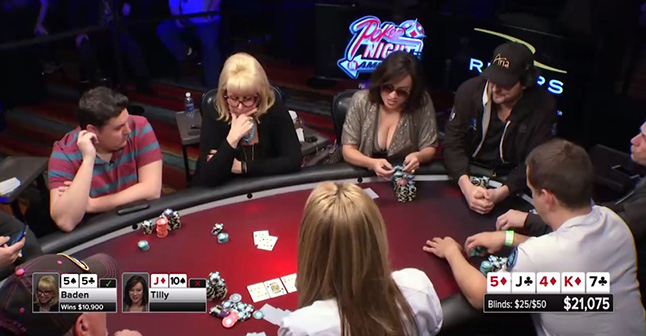 Poker Night in America
|
Season 2
|
Episode 20

- Length - 22:00 | AIRED:
Description: Poker Night in America mixes up an entertaining "personality salad" of new players and old poker pros, including one dressed as a zombie, in this episode| Official Site
Sitting around the table this episode are:
Jaclynn Moskow
Linda Kenney Baden
Jennifer Tilly
Phil Hellmuth
Matt Russell
Andrew Hanna
Poker Night in America mixes up an entertaining "personality salad" of new players and old poker pros, including one dressed as a zombie, in this episode. We meet Linda Kenney Baden, a high-profile criminal defense lawyer, Hollywood actress Jennifer Tilly, and first-time player Andrew Hanna. Though she spends most of her time in courtrooms, Baden shows some of the greatest poker pros how justice is served at the poker table, too. The episode begins with an impressive win by Baden as she goes head to head with Jennifer Tilly. Baden calls with her set of ♠ 5 ♣ 5 and Tilly raises to $1,500 with ♦ J ♠ 10.
Schneider folds his ♠ A ♦ 9, saying, "that's what I get for playing with the ladies." Baden re-raises to $3,400 and Tilly calls. With $8,000 already in the pot as we go to the Turn, and a diamond comes up, which may slow these players down. Baden checks. Tilly doesn't slow down and bets $5,000. They're both all in on the River, and with ♦ 5 ♣ J ♦ 4 ♦ K ♣ 7, Baden wins and collects the $10,900 pot! "All my profits are going to the lady lawyer," says Tilly. "Consider it an advanced retainer if you ever need me," replies Baden, who tells the camera that criminal trials are a lot like poker games in that one needs to have patience, a plan and a poker face.
In Defense of Phil Hellmuth
Though he ends up being the biggest monetary loser of this episode, Phil Hellmuth is a winner in the eyes of his poker buddies. During the first hand, Hellmuth found out that his poker playing abilities are being attacked on social media by fellow professional poker player Dan Colman. While Hellmuth claims that he's not bothered by these attacks – and their retweets and shares – everyone else at the table is.
Greg Mueller, in full zombie make-up, can't believe how relentless Hellmuth's online critics are. The discussion continues by everyone at the table well into the episode's second hand of poker, when it's revealed that Colman called Hellmuth "a whore and a cancer to the game of poker."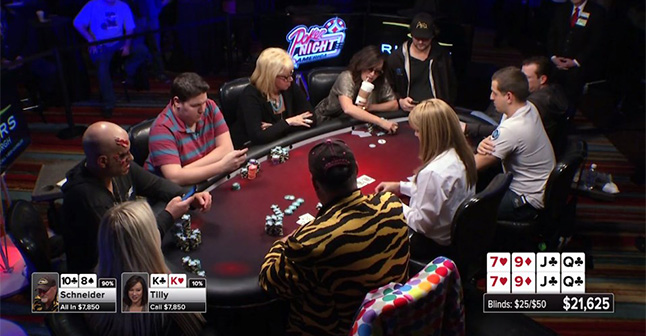 Greg Mueller (dressed as a zombie at the table's left) reading the negative attacks being shared online about Phil Hellmuth.
"I'll take Phil [Hellmuth] over Colman any day. One is an ambassador to the game and the other rides a moral high horse," says Mueller. Another poker pro at the table, Shaun Deeb, notes how even though Colman accuses Hellmuth of being a bad role model in poker, everyone will rightly think that Colman is the bad role model.
With so much support from the table, Hellmuth finally admits that these personal attacks do bum him out and acknowledges that they've been affecting how he's been playing in these first two hands. He says he feels "rattled" and the others agree. We're not worried about Hellmuth, though. The best way to distract him from his critics on social media is to concentrate on poker… which is always in store here at Poker Night in America.
A Face Only A Mother Could Love
Before this episode, the table's newcomer, Andrew Hanna, never played poker. The others joke that he won't be around for long. That may be so, but his presence is certainly memorable. After going head to head with Mueller in the third round of the episode, he loses. And then his mom calls. "I think she's about to berate me," he says to the table. They all encourage him to take the call, mostly so they can make fun of him. And that they do. When he tells them that his mom says he's the best-looking player at the table, they all laugh in response and say "you've got a face only a mother could love."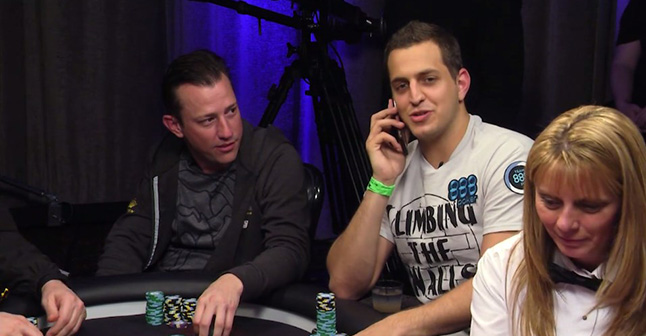 Andrew Hanna taking a call from his mother.
Final Tally First Day:
Linda Kenney Baden: $ 22,200
Tom Schneider: $16,025
Greg Mueller: $12,850
Jaclynn Moskow: $2,925