Poker Night in America – Season 2 Episode 16 Recap – Frankenmuth!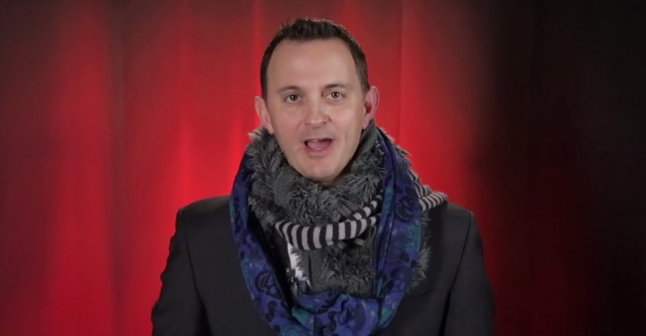 Poker Night in America
|
Season 2
|
Episode 16

- Length - 21:59 | AIRED:
Description: Not everyone can choose their nickname, just ask Andy Frankenmuth. Andy was given the name by his kind friends sitting around the Poker Night in America table. And despite the friendly joshing about his scarf wearing, it has yet to be seen if the nickname will last past one episode. | Official Site
Andy used his new nickname and his card playing expertise to take down a nice sized pot in the second hand of the episode. Andy goes head to head with Joe DeGeorge who has 5 ♣ 2 ♣ to Andy's pair of aces A ♣ A ♥ . Pre-flop there is already $2,125 in the pot and the flop of 6 ♥ 5 ♦ Q ♠ gives Andy the edge (but also gives DeGeorge a pair of fives). Andy bets $1,000 and DeGeorge calls. The turn is 7 ♣ and again Andy bets $2,000 and DeGeorge calls. The river is J ♣ and Andy senses he has the win. He pushes all-in for $4,500 and DeGeorge finally throws his cards to the muck and gives the $12,625 pot to Andy.
Film critic Richard Roeper hasn't had the best of luck in at the Poker Night table, but in this episode his strong starting hand finally finishes strong too. While a lot of people around the table thought they had decent hands and put in a total of $1,375 pre-flop before it got to Roeper. Roeper had a pair of queens and decided to gamble and push all-in for $3,800. Jennifer Tilly calls with a pair of jacks and the rest of the table folds. Before the flop there is over $8,900 on the table. The flop is 7 ♥ K ♠ 9 ♣ and the turn is a 9 ♦ and the river 3 ♠ seals it for Roeper.
History is made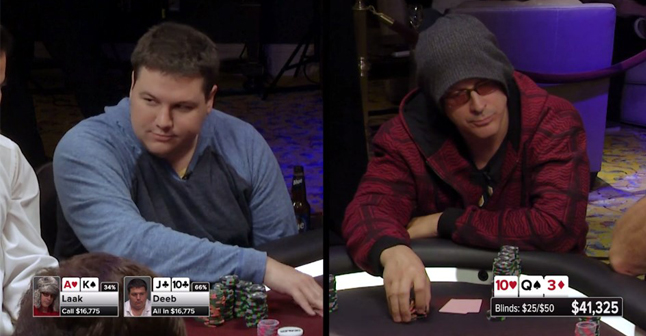 Deeb and Laak go head-to-head for the biggest pot in Poker Night in America history
Shaun Deeb and Phil Laak go head-to-head in one of the final hands of the night and it's a doozy: the highest pot ever on Poker Night in America. Pre-flop betting leaves only Shaun Deeb (J ♣ 10 ♣ ) and Phil Laak (A ♥ K ♠ ) and over $7k in the pot. The flop is 10 ♥ Q ♠ 3 ♦ which gives Deeb a pair and Laak a possible straight. Laak bets $9,000 and Deeb goes all-in for $16,775 and Laak calls! This put $41,325 in the middle and was the largest pot in Poker Night in America history. The turn is a 9 ♥ and then the river is a 2 ♥ and gives Shaun Deeb the biggest pot in the show's history.