Poker Night in America - Episode 21 Recap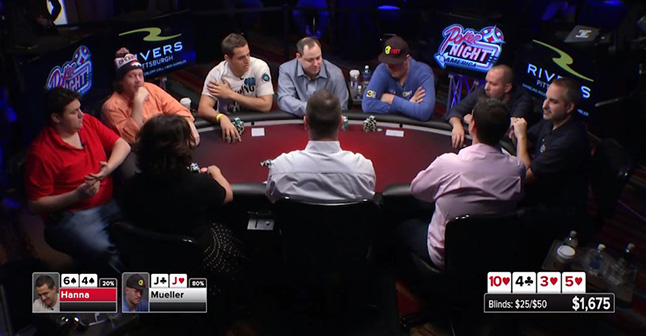 Poker Night in America
|
Season 2
|
Episode 21

- Length - 22:00 | AIRED:
Description: Episode 21 of Poker Night in America features millions of dollars' worth of career winnings, World Series of Poker bracelets, WPT champions and an Oscar nominee all sitting at the same table. | Official Site
Sitting around the table this episode are:
Jennifer Tilly
Andrew Hanna
David Eldridge
Jack Schanbacher
Episode 21 of Poker Night in America features millions of dollars' worth of career winnings, World Series of Poker bracelets, WPT champions and an Oscar nominee all sitting at the same table. The episode starts off on a sentimental note, with Pittsburgh native poker player Jack Schanbacher discussing his 7.5-month-old son as the second hand gets underway. After commenting that the kid must be really cute, celebrity poker player Jennifer Tilly says to Schanbacher in a baby voice, "Daddy, don't gamble away my college education!" She then adds that she's glad she doesn't have any kids because she'd feel guilty gambling. She soon folds, as do the others in the hand, leaving Smith and Glanz going head to head. While Smith is all in with $4,075 with (heart)K(heart)6, Glanz, who has ♣ Q ♣ 10, raises to $4,075. But there's a miss for Glanz on the turn and a miss for him on the river. Smith collects the $9,075 pot. ;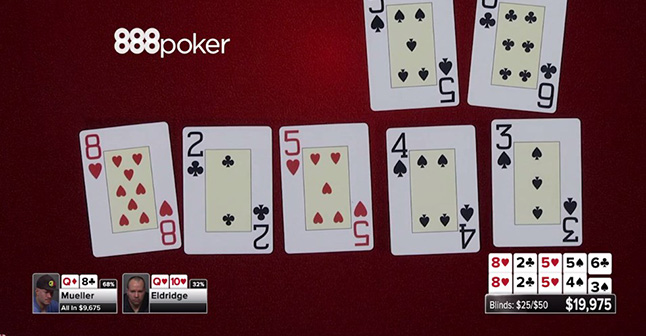 Glanz (l) before he loses the hand to Smith and Schanbacher (r) whose toddler son was talk of the table.
Jennifer Tilly Gives New Meaning to 'Under the Gun'
Maybe the $10,975 pot that Jennifer Tilly collects in the third hand of this episode gets her feeling generous. Whatever her inspiration, before the next hand, we see her up on her feet and looking around the floor for chips, announcing: "Any money I find on the floor, I'm giving to charity!" Shaun Deeb then takes a chip from Tilly's pile and tosses it on the floor for her to pick up, evoking laughter from the table, including from Tilly. As the fourth hand of this episode progresses, and Tilly calls $400, she tells the table that she's happy with her cards and that she can play them. Causing everyone around the table to raise their eyebrows in confusion, she adds that her cards are "under the gun cards." Amid laughs, Mueller admits, "I don't know what that means. I'm not a hunter." Shaun Deeb then replies, "Yeah, right. You smell the blood." Tilly goes on to beat Mueller for the $6,025 pot.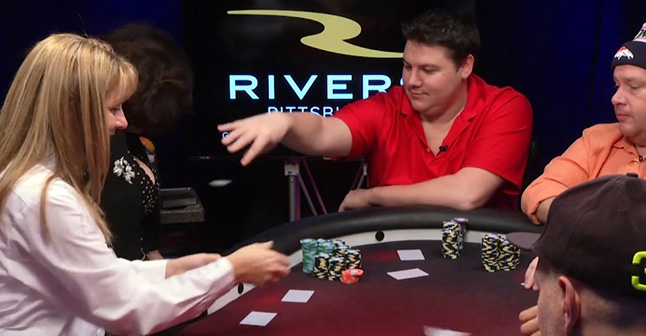 Shaun Heeb dropping one of Jennifer Tilly's chips on the floor for her to donate to charity.
The Players Shares Their Game Philosophies
David Baker then adds, "If you can find 3 hands that you can beat, you have to call." While Tilly says that that's been her philosophy, it hasn't been working out for her. Baker corrects her and says, "No, your game philosophy is that when you find 1 hand that you can be, you have to call." Baker then relays a story of a fellow pro poker player who once came to the table and said, "I'm waiting for aces." Someone then asked him if he was going to play anything else but aces, to which he replied, "No, I'll play other things while I wait for them." No matter the game philosophy, this episode shows that playing in good company is an important part of poker.