Poker Night in America – Season 2 Episode 13 Recap – It all goes to Hell…muth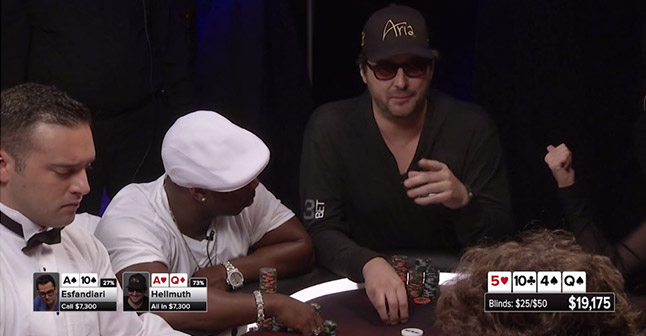 Poker Night in America
|
Season 2
|
Episode 13

- Length - 21:59 | AIRED:
Description: Applying a little pressure is sometime just what the doctor ordered, just ask Phil Hellmuth. Throughout most of episode 13, Phil Hellmuth is in a hurry to catch a flight and his desire to get out of there paid off. |Official Site
Video:
Poker Night in America - S02E13 - Rounding the Turn
Turning Stone Resort Casino hosts our exclusive cash game, plus we take a look at the movie "Rounders"
After winning a hand against Jennifer Tilly, the second hand he wins is a doozy against Antonio Esfandiari. Pre-flop in the hand are Jennifer Tilly with a pair of jacks (J ♣ J ♠ ), Esfandiari with A ♠ 10 ♠ and Hellmuth with A ♥ Q ♦ . The flop is 5 ♥ 10 ♣ 4 ♠ , which gives Esfandiari a pair but Tilly's jacks are still in the lead. The turn is a Q ♠ which gives Hellmuth the lead and leaves Tilly drawing dead. She tries to buy her way out of the hand by betting $2,000. Esfandiari calls and Hellmuth smells blood in the water and goes all-in, for $7,300. Tilly folds and Esfandiari says that he's way too stuck to fold, and he calls, bringing the pot to $19,175. Before the river, Hellmuth gets some insurance from Igor Kurganov, but it's for nothing as the river is an A ♦ and Hellmuth sweeps up the pot.
Hellmuth's final big winner came on the very next hand when he is dealt A ♥ K ♥ . Also joining Hellmuth pre-flop is Igor Kurganov with a pair of sixes (6 ♠ 6 ♦ ), Jacob Balsiger with 8 ♠ 7 ♠ and Jennifer Tilly with Q ♠ 8 ♥ . The flop is 7 ♦ A ♠ 2 ♠ which gives Hellmuth the lead with a pair of aces but Balsiger has a possible flush draw, making him dangerous. He starts off the betting with $600 and Hellmuth raises to $1,700. This knocks out Jennifer Tilly and Kurganov but Balsiger is going for the flush, so he calls. The turn is an A ♣ which gives Hellmuth the set of aces. Balsiger checks but Hellmuth bets $2,900 and Balsiger calls. The turn isn't a spade, but rather a 3 ♣ . Hellmuth bets $5,000 and Balsiger calls, which gives Hellmuth the $20,475 pot.
Hellmuth caught his plane, $20k in the black.
Poker Night at the Movies: Rounders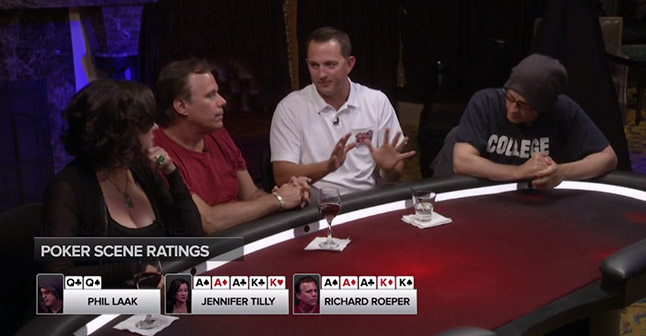 The Poker Night in America crew discuss the ultimate poker film, Rounders.
Some things in life are a given. Just take the old adage, "Death and Taxes," as the only two constants in life. You can add one more to that list. If a poker show is doing movie reviews about great poker movies, it is only a matter of time before the modern classic "Rounders" got its due.
The classic Matt Damon and Ed Norton poker film from 1998 was considered a bomb when it was first released but has since grown into a cult classic. Now it is regarded as the greatest modern poker film (sorry Runner, Runner).
Film critic Richard Roeper praises the film references that modern players also hold it high regard. But he has a few bones to pick with it, like why let the gangster deal?
Phil Laak wants to give it an amazing hand but feels that the script left out part of the analysis. Jennifer Tilly has good things to say about the film but felt it was a little too talky.
Overall the
Phil Laak gives it Q

♣

Q

♠

Jennifer Tilly gives the film A

♠

A

♦

A

♣

K

♣

K

♥

Richard Roeper agrees with Tilly and gives the film a full house A

♠

A

♦

A

♣

K

♣

K

♥

.
So no surprises, but Rounders gets high praise from our poker film critics.