Poker Night in America – Season 2 Episode 9 Recap – New table in New York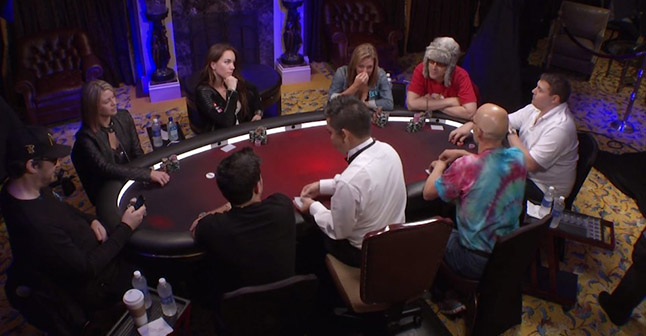 Poker Night in America leaves Florida behind and heads to Upstate New York for a brand new table of players. There's a ton of action right off the bat and with this group of players, you can expect the action will last for a while.
Sitting down at the table are:
Cindy Kerslake
David Patent
Phil Laak doesn't take long to get back to his entertaining ways, and in the second hand of the night he's already trying to talk his way into an advantage. Laak is the first to act and instead of just raising, he asks if he can bet the minimum. Shaun Deeb warns Laak that it won't be the minimum for long, but Laak makes a show of it before betting $50 with Q ♠ 8 ♠ . Deeb promptly raises to $250 with Q ♦ J ♣ and the rest of the table folds, leaving Laak to call, which he does. The flop is all Laak, as it is 7 ♠ J ♠ 6 ♠ , giving Laak the queen-high flush. The two check to the turn which is a 10 ♦ , locking up the hand for Laak. Laak hams it up, saying, "I think I have a little something going on," before he bets $525. Shaun Deeb says he does too and calls. The river is an 8 ♦ and Laak bets $1500, which Deeb immediately calls, giving Laak the $4,625 pot.
Laak explains after the hand that he knew that his starting hand wasn't so good and he didn't want to pay a lot to play for the hand, thus the questions about betting the minimum. As Jesse Sylvia said, "You gotta find a way you can see a flop."
Poker Night at the Movies
Who doesn't love movies? And who doesn't love poker? But the two together sometimes aren't so great. Poker Night in America decided to put the two together in a segment they call Poker Night at the Movies. Joining host Chris Hansen to review poker scenes from popular movies are film critic Richard Roeper, Oscar-nominated actress (and accomplished poker player) Jennifer Tilly, and Phil Laak.
In the first installment, the group reviews the poker scene from Casino Royale. While Roeper praises Daniel Craig as Bond, he thinks the scene is utterly ridiculous. Jennifer Tilly doesn't think much of it either, saying it was completely unbelievable that these players (especially at these high stakes) would splash the pot and let all their chips be mixed together.
When pressed to review the scene in terms of what kind of poker hand they would give it, the critics weigh in with:
Jennifer Tilly gives it A

♦

6

♠

Richard Roeper gives the scene 7

♣

2

♥

Phil Laak gives it a pair of threes (3

♦

3

♣

)
Not high praise, but it was a lot of fun.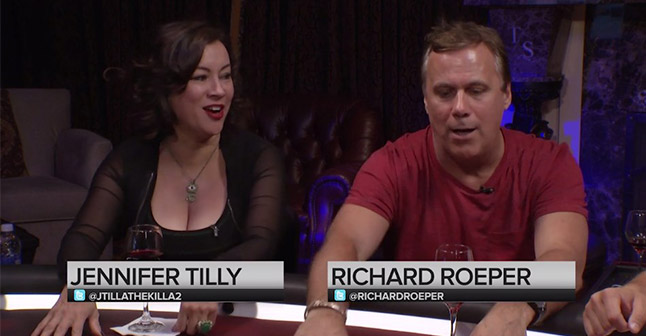 Jennifer Tilly and Richard Roeper discuss famous poker scenes