Poker Night in America – Season 2 Episode 4 Recap – Big Bluffs Edition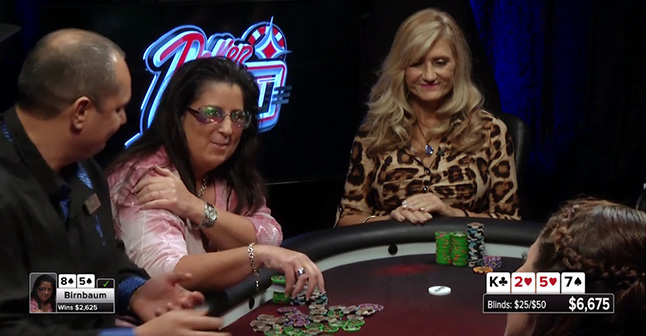 Sadly, it's the final episode of Poker Night in America's Ladies' Night, and we bid farewell to this historic table. As host Chris Hanson remarked, "This is one of the most talented and entertaining group of poker players, doesn't matter – men or women - that we've ever had on Poker Night in America." And he's not just paying lip service to the women, as this final episode proves: this is one exciting group of players.
Birnbaum's bookends
Nancy Birnbaum had two big hands that opened and closed this special episode. In the first hand of the night, Jamie Kerstetter starts the action betting $150 with J ♣ J ♥, Natasha Barbour calls with A ♣ 10 ♣, and Birnbaum raises to $525 with 8 ♠ 5 ♠. Kerstetter re-raises to $1,050, which kicks Barbour out of the hand but Birnbaum calls. The flop is K ♣ 2 ♥ 5 ♥, which gives Birnbaum a pair of fives but Kerstetter is still on top with her pair of jacks. She bets $1,350 and Birnbaum calls, putting $5k in the pot. The turn is 7 ♠ and Kerstetter checks, Birnbaum bets $1,650 and Kerstetter decides it's too much and folds. The table immediately senses it is a bluff and Birnbaum wants to turn over the bluff, but instead only shows the 5.
In the final hand of the episode, it's Birnbaum against Vanessa Selbst. The hand starts off with new player (and Floridian) Regette Duvdivani raises to $150 with A ♦ K ♠. Vanessa Selbst calls with K ♥ K ♦ as does Jessica Dawley with A ♠ 2 ♠ and finally Nancy Birnbaum also calls Q ♦ J ♣. The flop is a monster for Birnbaum with J ♦ Q ♥ J ♥ giving her a full house. Duvdivani bets $325, Selbst calls, Dawley folds and Birnbaum calls. Chris Hanson remarks that flat call is the best way not to raise suspicion that she has the nuts. The turn is a 6 ♥ and the players check through to the river which is a 4 ♦. Birnbaum is the first to bet and she bets $825. Duvdivani realizes her AK are useless and she folds. Vanessa Selbst really wants to call, but after much hemming and hawing, she folds, giving Birnbaum the pot.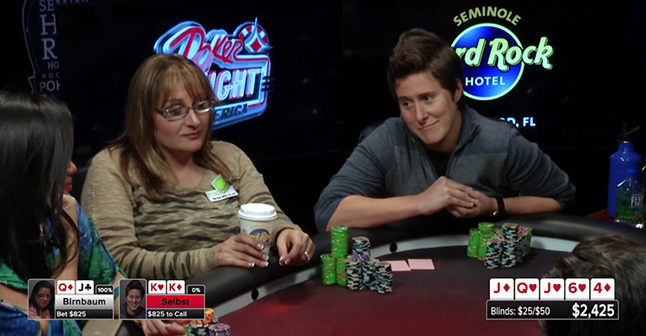 Vanessa Selbst tries to talk herself into calling.
Billings revenge
At the end of Ladies' Night, Vanessa Selbst was the big winner and Lauren Billings lost the most. But in a bit of fun away from the poker table, the cast and crew (and Gavin Smith) play a little paintball. Lauren Billings and Danielle Andersen are team captains and after teams are chosen (with Gavin Smith being chosen last) the teams suit up. It a modified game of capture the flag, it's Team Billings vs Team Andersen. A lot of shooting, which hits both the cast and crew, Team Billings emerged victorious. While the poker table may not have been kind to Billings, she led her team to a pretty impressive victory.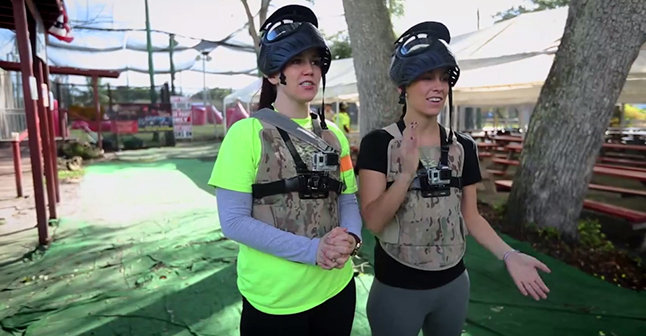 Team Captains: Lauren Billings (L) and Danielle Andersen ®.