Poker Night in America – Season 2 Episode 11 Recap – I see your bet and raise you an episode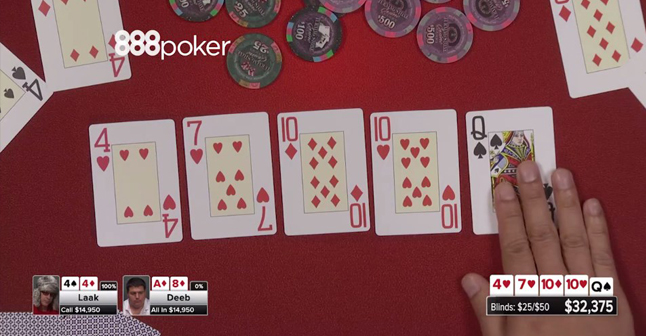 It's the end of the first day at Turning Stone Resort and a lot of money has changed hands so far. And with the night drawing to a close, the players are in a rush to make their mark on the table.
Starting the episode, Phil Laak was down almost $10,000, but through a number of shrewd moves (and some luck), he was able to claw his way back.
In his first winner, Laak gets some love from the deck on the river. The hand started out innocently enough, as Jessie Sylvia (A ♠ 3 ♠ ) and Liv Boeree (Q ♣ 9 ♣ ) entered the pot for $350. Laak called with J ♥ 10 ♦ . The flop is 4 ♥ 9 ♥ J ♣ , giving Laak top pair. Boeree bets $800 which knocks out Sylvia, but Laak calls, going head-to-head with Boeree. The turn is a Q ♦ , which catapults Boeree into the lead with two pair. Boeree bets $1,900 and Laak takes a moment to think it over before calling. The river is the 8 ♠ and immediately Laak announces his bet of $4,450. Boeree thinks for a moment before she folds, giving Laak the $11k pot.
In perhaps the most memorable hand of the episode, the players blind raised around the table, with Deeb betting $800 on his unseen hand. Jesse Sylvia looks at his cards and bets $2,100; Phil Laak calls with pocket fours (4 ♠ 4 ♦ ). Shaun Deeb has A ♦ 8 ♦ and decides to push the envelope and goes all-in. Sylvia folds and Laak thinks about it. While Laak is thinking, Deeb offers to look at Laak's hand and tell him what to do. Laak agrees, and Deeb says, "That's a very good starting hand." After ten seconds of silent Phil Laak thinking, he calls, pushing the pot to over $32k. The flop is 4 ♥ 7 ♥ 10 ♦ , giving Laak a set. After the turn is a 10 ♥ , Laak can't believe it. "I can't believe I made that call and it worked." The river is a harmless Q ♠ and Phil Laak rakes $32k of chips.
Video:
Poker Night in America - S02E11 - Todd's 9 and Ocean's 11
9 players belly up to our felt and we explore poker as portrayed in the 2001 remake of "Ocean's 11".
Poker Night at the Movies: Oceans 11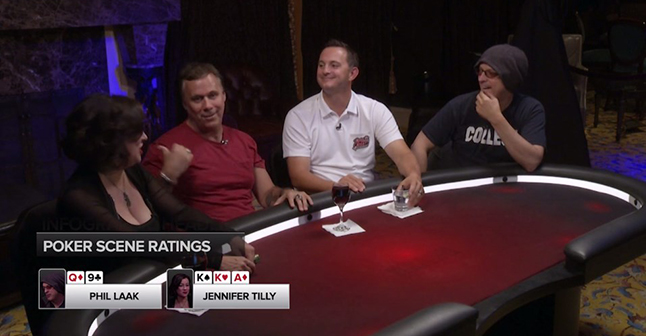 Jennifer Tilly and Richard Roeper join Chris Hanson and Phil Laak take down Ocean's 11.
What discussion of poker in the movies would be complete without a mention of Ocean's 11? The Las Vegas caper movie is known for its ensemble cast and quick dialogue; it also has a humorous poker scene involving professional poker players teaching actors how to play the game.
Phil Laak has a few gripes about the scene, starting with the yellow chips the players use, the copious amount of string bets, and he doesn't for a moment believe that all the players are drinking water.
Jennifer Tilly, who is both an actress and poker player, liked the scene more than Laak did. She was amused by the actors playing up their stupidity about the game. The one thing that drove her crazy was George Clooney saying the line real poker players dread, "I'll see your bet and raise you."
Phil Laak gives it Q

♦

9

♣

Jennifer Tilly gives it K

♠

K

♠

A

♦

Richard Roeper gives the film a jack-high straight.
So in the end, it's a split decision for Ocean's 11. They may have pulled off a great caper, but the poker scene is still up for debate.