Poker Night in America - Episode 22 Recap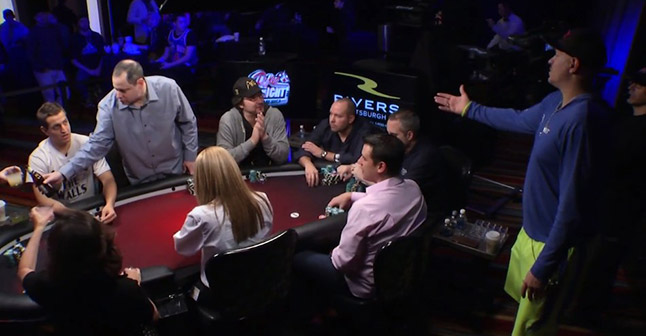 Poker Night in America
|
Season 2
|
Episode 22

- Length - 22:00 | AIRED:
Description: Professional poker player Phil Hellmuth offers a $10,000 bet to prove that fellow professional poker player Greg Mueller plays differently when sharing a bankroll, and he ends up insulting the whole table during Poker Night in America, but the players at the table come to Mueller's defense. Read the recap of episode 22 to learn more about the heated conversation. |Official Site
Sitting around the table this episode are:
Jennifer Tilly
Greg Mueller
Shaun Deeb
Phil Hellmuth
Andrew Hanna
David Baker
Matt Glanz
Jack Schanbacher
David Eldridge
Poker Night in America starts off a little unconventionally in this episode, with Greg Mueller and Shaun Deeb sharing their chips and taking turns at the table orbit by orbit. After Deeb, who's taking his turn at the table, folds in this first hand, he calls over to Mueller, who's off in the background, "I can't believe I've folded every hand." He then asks sarcastically, "Aren't you so happy?" To this, Phil Hellmuth suggests that each of them just play their own money instead of each other's since he thinks it's affecting the overall play. He then offers a bet to see if they can get one other player to agree that their level of playing is tighter when they are sharing their chips. While the first hand of this episode goes to Glanz, who wins the $2,675 pot with ♣ K ♦ Q, beating Eldridge's ♣ J ♣ 5, the real action heats up off the table. As the players start the second hand of the episode, Hellmuth offers a $10,000 bet to Mueller, who has just replaced Deeb at the table, that if they were to call two professional poker players, they would both agree with Hellmuth that Mueller plays differently when not sharing a bankroll with Deeb. Despite Mueller's protests that his play is the same, Hellmuth insists that "I believe you would try to play your best but that in the back of your mind you're thinking 'Wow, I don't want to lose Shaun's money' and so that might influence you." The table weighs in on the discussion. Meanwhile, going head to head with Baker, who has a ♣ 9 ♦ 9, Mueller bets $1300 on his ♥ A ♥ 6 and, playing tight or not, wins the $4,350 pot.
Who You Calling Dumb?
The atmosphere at the table continues to heat up as Hellmuth insults the intelligence of his fellow players at the table. After clarifying that he'd only pay the $10,000 bet if Mueller were to ask the opinion of two professional pokers players and not anyone at the current table since he "doesn't know how smart anyone is," the fellow players verbalize how offended they are. Andrew Hanna, in particular, voices his dislike at being called dumb and inexperienced by Hellmuth. "I have tremendous respect for him. His accolades speak for themselves. But don't patronize me." Coming to Hanna's defense, Gavin Smith also claims that Hellmuth is creating animosity at the table and that despite the high ratings that Hellmuth pulls in, the greater good of the table needs to be thought about. Hellmuth responds by putting in his earphones to silence out the table's outcries and says directly to the camera: "This is my life. It gets off the rails. At some point, I man up. I shut up. I smile somehow." Some of the other players, including Mueller, whose shared bankroll with Deeb sparked this bet and ensuing argument in the first place, also find their cameras and smile directly into them.
The Bet that Never Was
As this episode heads into the fourth hand, Hellmuth can't seem to drop the subject of whether or not Mueller plays differently when sharing his chips with Deeb. He asks Mueller one last time if he wants to take his $10,000 bet and then says Mueller can choose who to call for a professional opinion on the matter. Mueller gets annoyed that Hellmuth won't accept his opinion that he plays the same no matter whether he's playing with his own money or someone else's. Hellmuth keeps insisting that Mueller's play is affected by 20-30% when sharing the chips. "So you're calling me a liar?" asks Mueller. "I'm a bit insulted." Glantz then interjects with, "He's not calling you a liar, he's calling you dumb." Finally, with no bet being taken, and the table environment less than friendly, Eldridge asks, "How much do I have to pay to change this conversation?"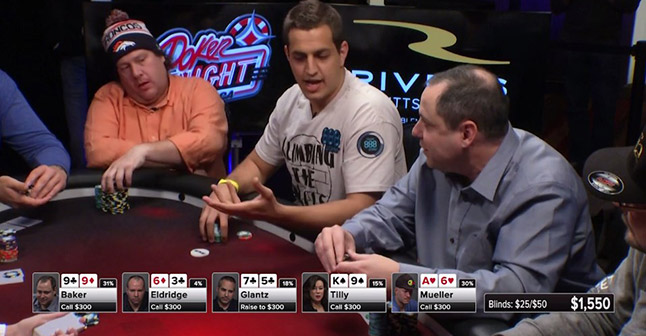 Andrew Hanna expressing his displeasure at being called dumb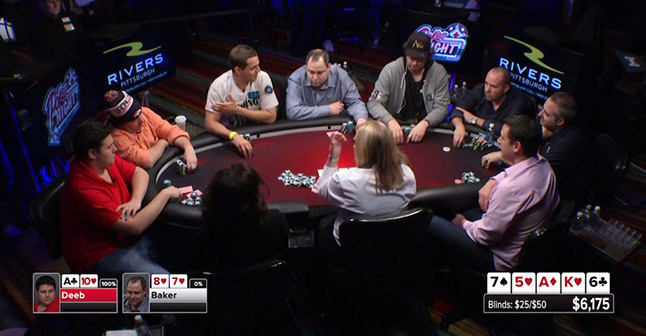 The table in heated conversation with Hellmuth