Poker Night in America – Season 2 Episode 15 Recap – Maverick, money, and must see poker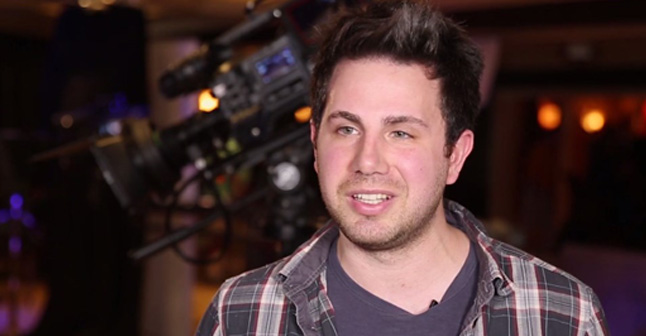 Poker Night in America
|
Season 2
|
Episode 15

- Length - 21:59 | AIRED:
Description: It's a new day and a new crew at the Turning Stone Resort in upstate New York. There are some new faces, some old faces, but a ton of action around the table!| Official Site
Sitting around the table this episode are:
Richard Roeper
Jennifer Tilly
Andy Frankenberger
Matt Russell
Doug Maverick
Joe DeGeorge
Newcomer Doug Maverick put on an impressive show at the poker table and in one of his first hands he takes on Poker Night in America's resident film critic, Richard Roeper. Pre-flop Jennifer Tilly is in with A ♣ 8 ♣ , along with Roeper with K ♠ 3 ♠ and Maverick with the beer hand, 7 ♠ 2 ♣ . Earlier in the night the table made a side bet that if anyone could take down a pot with 7 & 2 they would get $100 from each player.
With that in mind, Maverick was going for the pot and the bet. The flop was 4 ♥ K ♦ 6 ♠ and helped Roeper, giving him a pair of kings. Maverick bet $300 and only Roeper called. The turn was a J ♣ and with the action on Maverick he bet $900, which Roeper called again. The river was a 7 ♦ which helped Maverick but not enough to take down Roeper. However, it was his bet of $2,700 that knocked Roeper out of the hand. Maverick then decided to offer insurance for $50 to the table by showing the 2, and only Jennifer Tilly took the offer. Maverick later said in an interview that he should have showed a 7 instead.
In one of the bigger hands of the night, Jennifer Tilly shows us why she's one of the best poker minds in the game today. Pre-flop in the hand are: Richard Roeper with 5 ♣ 3 ♣ , Tilly with A ♥ A ♦ and Matt Russell with J ♣ 10 ♣ and all together there is $3,475 in the pot. The flop is 5 ♥ 6 ♦ 10 ♥ which gives Tilly the edge. Roeper checks but Tilly bets $2,000 and Russell goes all-in for $4,150, which knocks Roeper from the hand. Tilly calls, pushing the pot to $11,775. The turn is a 6 ♥ which isn't any help for Russell. The river is a 3 ♥ which gives her the hand and the $11k pot.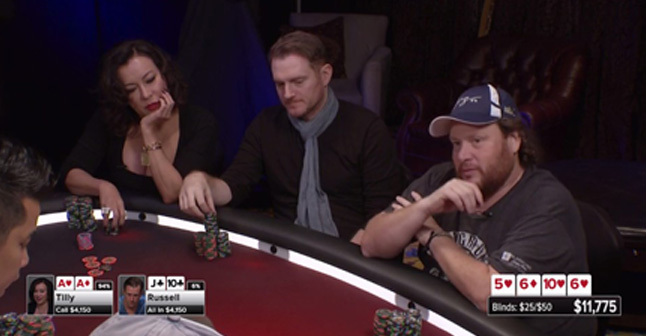 The river that gave Jennifer Tilly $11k
In the final hand of the night, table newcomer Joe DeGeorge makes an impressive play to take down a pot. Richard Roeper has a pair of queens (Q ♠ Q ♦ ) and raises to $600, Matt Russell has 8 ♥ 7 ♠ , and Joe DeGeorge raises to $1,950 with a pair of fours (4 ♠ 4 ♦ ). Roeper gives up his pair of queens and Russell takes a minute to think about his decision before deciding to call. There is $4,275 pre-flop and the flop comes and it doesn't help Russell: K ♣ 6 ♥ J ♠ . The action is on DeGeorge and he bets $2,600 and Russell decides he's seen enough and folds.