Poker Night in America – Season 2 Episode 14 Recap – Any Given Sunday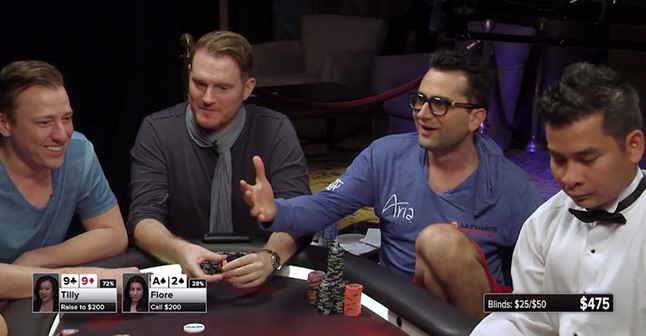 Poker Night in America
|
Season 2
|
Episode 14

- Length - 21:59 | AIRED:
Description: It's not too often that a film critic and a film star can sit down at the same table but these last few episodes of Poker Night in America have proven that stranger things have happened.| Official Site
Video:
Poker Night in America - S02E14 - Cool Hand
Our cash game continues in the VIP room at Turning Stone Resort Casino. Our panel of poker and movie experts examines the movie "Cool Hand Luke".
With various side bets going on about film critic Richard Roeper's movie he's seen the most (it's the Godfather and not Travell Thomas's suggestion of Any Given Sunday), you'd be forgiven if you missed the amazing poker happening around the table.
While a lot of the attention may have been on Roeper's opinions, it was actress Jennifer Tilly who scooped up the biggest pot in Poker Night in America history.
It started off innocently enough (don't they all) with everyone folding except for Jennifer Tilly with J ♣ 10 ♣ and Igor Kurganov with A ♠ Q ♣. Through a series of pre-flop raises the pot is already at $5,775 when the flop of 10♦ 3 ♣ J ♠ is dealt. Tilly is the odds-on favorite to win with two pair and Tilly checks to Kurganov who bets $2,000. Tilly raises to $6,000 and Kurganov moves all in for $14,575. Tilly quickly calls and the pot is an astounding $34,925. The turn of 9 ♣ gives Kurganov some hope but it is quickly crushed with the useless 5 ♥. It's Jennifer Tilly who wins the biggest pot in the history of Poker Night in America.
Poker Night at the Movies: Cool Hand Luke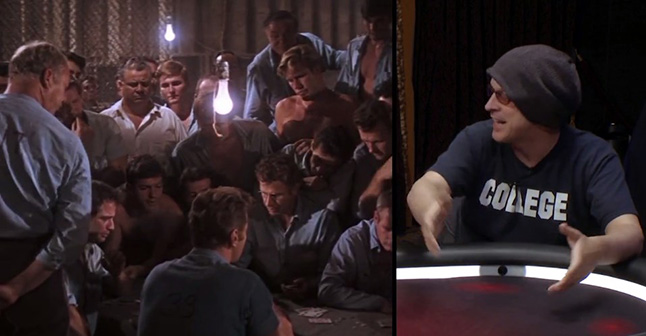 Phil Laak puts Cool Hand Luke on the same level of Rounders
"Kick a buck." Never has a bet sounded as cool as when uttered by legendary actor Paul Newman in the classic 1967 film, Cool Hand Luke. In a scene full of southern slang, smoke, and sweat (which Jennifer Tilly referred to a Levi Strauss ad because of all the denim), the poker seems to take a backseat to the plot, and for the Poker Night roundtable, that's just fine.
Richard Roeper quickly points out that the scene isn't the poker, it's how Luke becomes Cool Hand Luke. While we don't see a lot of the poker in the scene, it still doesn't affect his high praise of what he calls, "one of the great films of all time."
Phil Laak absolutely loves this film. He called the bluff perfect and the poker believable, liking how there was no splashing the point. How much did he love the film? For Phil Laak, it's on the same level as Rounders.
Jennifer Tilly hasn't seen the movie, but loved the scene. Phil Newman is the "gold standard" for her and loved George Kennedy's performance.
So what did the panel give the film?
Richard Roeper gives it a royal flush A

♠

K

♠

Q

♠

J

♠

10

♠

Phil Laak gives it Q

♣

Q

♠

Jennifer Tilly gives the film A

♥

K

♥

Q

♥

J

♥

10

♥
Well one thing is certain, what we have here is perfect communication.