Poker Night in America - Episode 25 Recap – What the puck?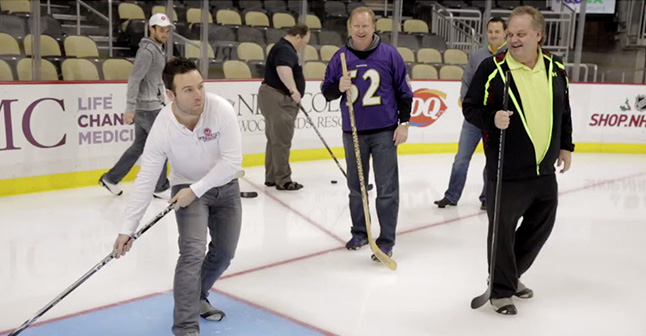 Playing close by the home of the Pittsburgh Penguins, it's only natural that the poker pros head to the Consol Energy Center to hit the ice and show of their hockey skills. The pros do their best impression of Sid the Kid, which ultimately proves why their natural home is felt and not the ice. While no hockey like fights broke out at the table, some of the hands in this episode sure felt like it.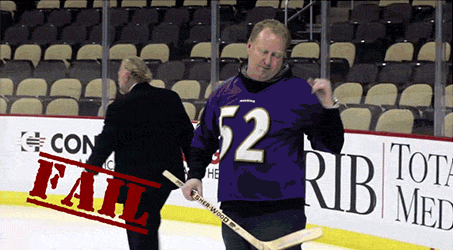 Going from all in to none in Poker Night in America's poker pros show off their hockey skills.
The first hand feels like two players, Pittsburgh native David Eldridge and a new player, poker pro Nick DiVella, have dropped the gloves and are duking it out. The hand starts off innocently enough with another new player, Dave Tannenholtz who was the runner up in the 2013 Pittsburgh Open, raising to $150 with K ♣ J ♥ . Eldridge calls with 10 ♦ 9 ♦ and Jack Schanbacher calls with 8 ♣ 8 ♦ and Nick DiVella raises to $575 with Q ♥ Q ♦ . That raise knocks Tannenholtz out of the hand, but Eldridge and Schanbacher both call.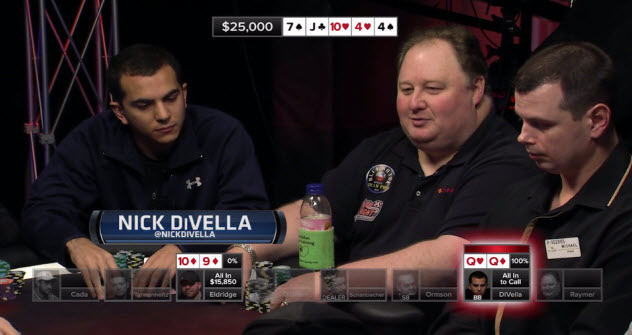 Nick DiVella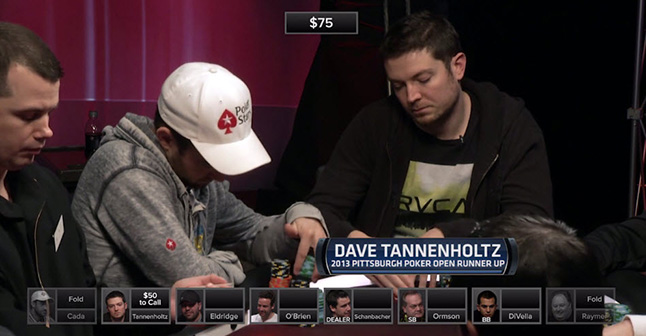 Dave Tannenholtz 2013 Pittsburgh Open runner up
The flop of 7 ♠ J ♣ 10 ♥ helps DiVella who checks but Eldridge best $875 which is too much for Schanbacher and he folds. DiVella calls and the turn is a 4 ♥ , giving DiVella the strong advantage. He bets $1,275 and Eldridge raises to $2,750, which DiVella calls bringing the pot to $9,150. The river is a 4 ♠ gives DiVella the best hand, and he checks. Eldridge throws a haymaker of sorts and goes all-in (adding $15,000 to the pot).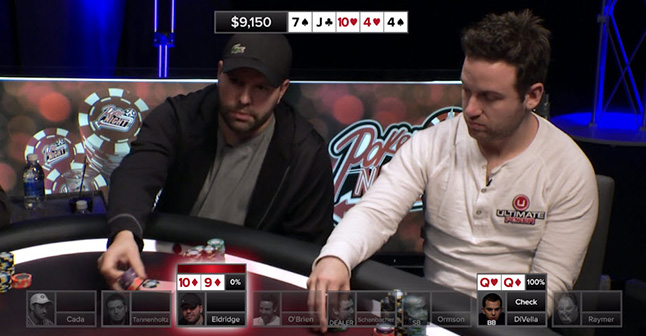 Eldridge's haymaker, he pushes all in.
Greg Raymer sums up the situation for DiVella, "You just joined the game that's been going on for hours and you have to face the toughest decision anyone's had to face all day." After O'Brien reminds Raymer that he went all in, Raymer replies, "It's easier to go all in than it is to call all in."
The play by Eldridge works and DiVella folds pocket queens and Eldridge collects the $25,000 pot.
Poker on ice
Making their most of their time, the poker pros head over to the Consol Energy Center to show off their hockey skills. They set up a little challenge for the players: stand at one crease and attempt to shoot the puck once into the opposite goal. All the players take a shot and while some come close, all of the players miss. Only host Chris Hanson scored a goal, showing us that he may really be a host with the most.